The following is a list of 4-star dog food brands… each containing not less than one dry puppy food.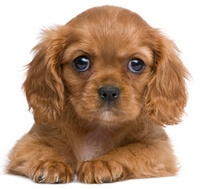 To qualify, each puppy food must meet AAFCO nutritional profiles for either growth or all life stages.
Or it must be recommended for puppies by the manufacturer.
If you know of a puppy food you feel we should have included here, please share your own suggestions in our Comments section.
Or if you're looking for some suggestions yourself, be sure to look through our readers' Comments to find more good ideas.
More Quality Puppy Foods
For even more ideas, you may want to check out one of our other puppy food lists or articles we've created…
How to Find the Best 4-Star
Dry Puppy Foods
The following is a list of 4-star dry dog food brands that have been shown to contain at least one puppy food. Within each brand, look for products that include the word "puppy" in their names.
In addition, many other products are designed for all life stages — a category that also includes puppies.
Best 4-Star Dry Puppy Foods