Feeding the best large breed puppy food can significantly lower your dog's risk of developing hip dysplasia.1
That's because the nutritional needs of large and giant breed puppies are different from those of small and medium breeds.
And ignoring those needs can lead to crippling bone and joint disorders like:
Elbow dysplasia2
Osteochondrosis (OCD)
Canine hip dysplasia (CHD)
Developmental orthopedic disease (DOD)
Why Large Breed Puppies
Are at Greater Risk
When compared to smaller breeds, two unique factors about the way they grow make large breed puppies more prone to skeletal problems:
They grow faster
They remain puppies longer
A Labrador retriever can grow from just under a pound at birth to over 70 pounds in a year. That's a whopping 70-fold increase in size in just 12 months.
In comparison, a human being can take 18 years to achieve results that are less than half that much.
What's more, unlike smaller breeds that can be fed as adults at about 9-12 months, many larger breeds continue to grow and can still be considered puppies until 12 to 24 months.3
Rapid growth means the bones must change quickly — a factor that can put them at risk of forming improperly.
And it is this remarkable rate of growth that makes large and giant breeds so sensitive to nutritional imbalances.
The Protein Myth
Unfortunately, the Internet is awash with misinformation about how to feed large breed puppies.
For example, many insist that high levels of dietary protein can lead to hip dysplasia.
Yet contrary to that popular myth…
No evidence exists to link high protein intake to skeletal disease in large breed dogs.4
So, if high protein isn't the problem…
What Causes Hip Disease
in Large Breed Dogs?
Hip disease in large breeds appears to be the result of at least one of 3 proven factors:
Genetics5
Overfeeding6
Excessive dietary calcium7
So, since after birth there's nothing you can do to change your puppy's genetics…
It's important to avoid feeding too many calories or too much calcium, two factors that can significantly increase your puppy's risk of hip dysplasia.
Overfeeding
Free choice is a popular feeding method in which the food remains in the bowl and continuously available — so a puppy can eat whenever it wants.
Sadly, many owners of large breed puppies mistakenly believe that this form of uncontrolled eating is the correct way to feed their pets.
However, free choice feeding has been shown to cause a puppy to grow too fast — and lead to serious problems.
For example, a 1995 German study of Great Danes demonstrated a significant increase in the risk of developing skeletal disease when the puppies were fed free choice.8
In another study, one group of Labrador Retriever puppies was fed throughout life a restricted calorie diet while a second was fed free choice.9
The restricted calorie group experienced a much lower incidence and later onset of hip joint arthritis.
Too Much Calcium
Like overfeeding, excessive dietary calcium has also been shown to increase the risk of skeletal disease in large breed puppies.10
That's because puppies can have trouble regulating how much calcium is absorbed from their intestinal tracts.11
And that's not all.
Feeding too little calcium can also lead to problems.
That's why it's so important to feed a dog food that contains an amount of calcium that's safe for large breed puppies.
How to Be Sure Your
Dog's Food Is Safe
Thanks to an important change in labeling laws that went into effect in January 2016…
It's now possible for you to be 100% certain ANY food you buy is a good match for your large breed puppy.
Without calling your vet.
Or consulting a nutritionist.
Best of all…
The written assurance you need is printed right there on the label of virtually every commercial dog food.
You just need to know where to look.
It's a simple, easy-to-read sentence known as the Nutritional Adequacy Statement.
And based on standards set by the Association of American Feed Control Officials (AAFCO)…
And scientific data published by the National Research Council of the National Academy of Science.
Which means…
To meet the more rigid safety guidelines for large breed puppies, a dog food must contain12
1.2 to 1.8% calcium
1.0 to 1.6% phosphorus
Calcium-to-phosphorus ratio 1:1 to 1.8:113
So…
Scan the Package for the
Nutritional Adequacy Statement
Here's what it looks like…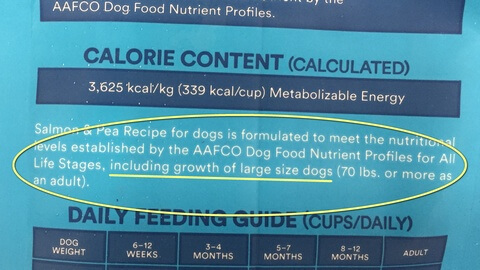 Since you're feeding a large or giant breed puppy…
You want to be certain the food meets AAFCO nutrient profiles for either "Growth" or "All Life Stages".
And…
That it ALSO reads… "including growth of large size dogs".
That last phrase is SUPER IMPORTANT!
Because if you don't see those words…
You should assume the food contains too much calcium… and is NOT SAFE for your large or giant breed puppy.
By the way…
AAFCO defines a large breed puppy as any dog whose adult weight is expected to exceed 70 pounds.
However…
For greater safety…
We recommend a more conservative 50 pound definition of large breeds advocated by others.14 15 16 17
When Can You Safely Switch
Your Puppy to Adult Food?
Large breeds puppies (like Labs, Goldens and German Shepherds) don't reach adulthood until 12 to 18 months.
And giant breeds (like Great Danes and St. Bernards) can take up to 24 months before they're considered adults.
| Breed Size | Adult Weight | Adulthood |
| --- | --- | --- |
| Large breed | 50-100 lbs | 12-18 mos |
| Giant breed | Over 100 lbs | 18-24 mos |
Since calcium content can vary…
Switching your large breed puppy to adult dog food too soon can significantly increase your pet's risk of hip dysplasia.
Best Large Breed Puppy Foods
Fall 2018
The large breed puppy foods listed below were selected by The Dog Food Advisor because they meet all 9 criteria associated with superior brands.
In addition, their AAFCO labels reveal…
Calcium content safe for large breed puppies
No cancer-causing chemical preservatives
No anonymous meat ingredients
Use the links below to compare price and package sizes at an online retailer.
* Calculated dry matter protein
Footnotes