What are the Best Dental Chews for Dogs on the Market?
On this page, we're gathering the best dental chews for dogs you can buy.
We'll add a new selection each month, so don't worry if the chews you use aren't here or if you don't like the look of any we've listed (although they're all excellent).
We can't analyze dog dental chews in the same way we analyze dog food so we've tried to keep the chews as healthy and natural as possible — avoiding nasty artificial additives and preservatives while making sure they're still effective in keeping your dog's teeth clean.
Do Dog Dental Chews Work?
Our founder, Dr. Mike Sagman, was a dentist and he knew the importance of doggy dental care. Dogs want to be able to chew bones, destroy fluffy rabbit toys and wow people with their adorable smiles — and they need a healthy set of gnashers to do this.
It's vital you clean your dog's teeth or get them cleaned professionally because poor dental hygiene can lead to a host of health problems, not to mention the infamous 'dog breath'.
Dog dental chews help to scrape away plaque and tartar. They can't replace teeth cleaning but dental chews are an excellent day-to-day addition to your dog's dental care routine.
(By the way, dry dog food does not clean your dog's teeth — that's a myth.)
Here are our choices for the Best Dental Chews for Dogs. We hope they put a smile on your — and your dog's — face.
---
Best Dental Chews for Dogs
March 2023
---
Jinx have developed a premium, all-natural dental treat which boasts real chicken as the main ingredient. The deep grooves are also tough on plaque and help to freshen up bad breath.
---
Say 'see ya later alligator' to bad doggy breath. These fun-shaped treats are designed to tackle hard-to-reach plaque and prevent tartar build-up. They're also gluten-free, vegetarian and made with natural ingredients.
---
This special formula will simultaneously freshen up your dog's breath and ease joint stiffness. Premium ingredients include Hemp Seed to support immune function, and eggshell membrane to promote hip and joint health.
---
PetLab Co. have crafted these dental chews with added prebiotics to support overall gum health, oral hygiene, and digestion. All while cleaning your dog's teeth and preventing tartar build-up. Clever, hey?
---
Fresh Sticks have a delicious peanut butter flavor and are formulated to support good dental health and doggy breath. Natural ingredients like quercetin, colostrum and omegas will also help when seasonal allergies come knocking.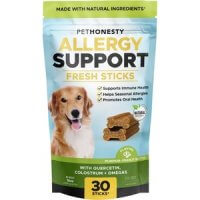 ---
---
A Final Word
The Dog Food Advisor does not accept money, gifts, samples or other incentives in exchange for special consideration in preparing our reviews.
However, we do receive a referral fee from online retailers (like Chewy or Amazon) and from sellers of perishable pet food when readers click over to their websites from ours. This helps cover the cost of operation of our free blog. Thanks for your support.
For more information, please visit our Disclaimer and Disclosure page.