Is Nutro a good dog food?
In this review… The Dog Food Advisor takes a detailed look at Nutro Dog Food… and its seven most important sub-brands.
We'll also share…
Is Nutro Dog Food made in the United States?
Has Nutro been recalled?
Which flavors and recipes get our top ratings?
But first…
Which Nutro Sub-Brand Is Right for You?
In the following section, you'll find Nutro's 7 most important product lines. We'll share what makes each sub-brand different. So, you can choose the food that's best for your dog.
Natural Choice is Nutro's most popular sub-brand. These recipes are for those who prefer a dry kibble that's made with grain.
Protein sourced from chicken, lamb, salmon or venison
26% mean brand protein (near average)
Grain-inclusive, typically rice
19 recipes (ratings vary)
Nutro Ultra is for those seeking a grain-inclusive dry food with more meat and better ingredients… and a worthy upgrade over the Natural Choice line (above).
Protein trio… chicken, lamb and salmon in each recipe
Contains added fruit and veggies
Made with non-GMO ingredients
10 recipes (ratings vary)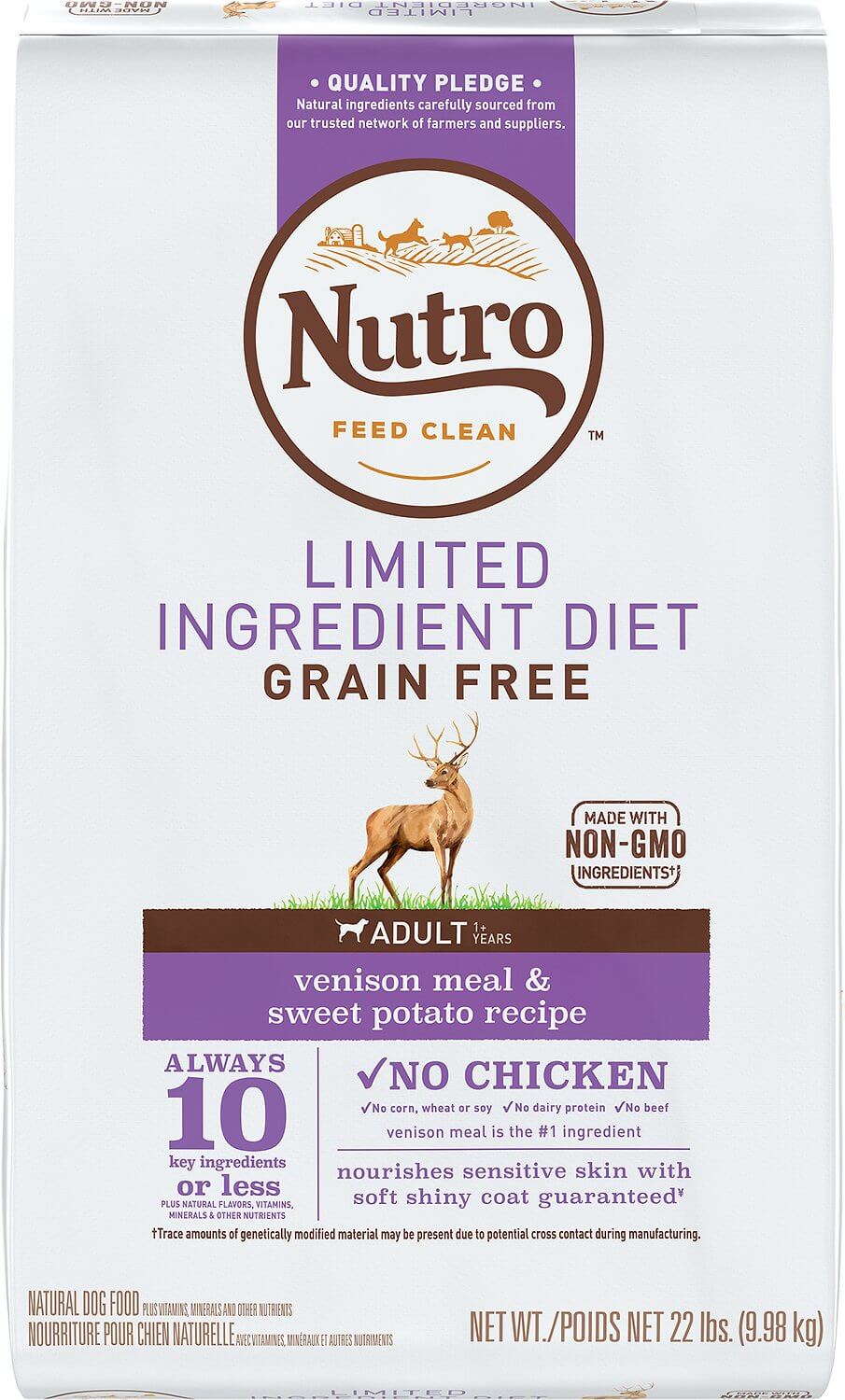 Nutro Limited Ingredient Diet is a grain-free kibble that's made for dogs with food sensitivities or allergies.
Contains no chicken
Fewer than 10 ingredients in each recipe
Grain-free. No corn, wheat or barley
5 recipes (ratings vary)
Hearty Stews is for those who prefer a chunky-style, grain-free wet dog food. Can be used as a topper over dry kibble.
Chicken, lamb, turkey or beef flavors
Above-average protein, below-average carbs
4 recipes (ratings vary)
Premium Loaf is a high-protein (39% to 41%) wet formula that's 100% grain free.
Finely-ground consistency
No corn, wheat or rice
Tasty wet mixer for dry kibble
4 recipes (ratings vary)
Limited Ingredient Diet is a grain-free wet recipe that's designed for dogs with food sensitivities or allergies.
Finely ground loaf-style wet meal
Limited to 5 key ingredients
Lamb, turkey or fish flavor options
3 recipes (ratings vary)
The wet version of the Nutro Ultra dry kibble above. Each recipe is grain-free and offers a wide range of protein sources.
Ready-to-serve meals with resealable lids
Anti-oxidant-rich, fruit and veggie blend
Ideal for diet rotation
14 recipes (ratings vary)
A Quick Guide to Nutro's Sub-Brands
Still not sure which Nutro sub-brand is right for you? This short video from Chewy can help. The grain-free dry recipe mentioned in the video is no longer available. And Wholesome Essentials has been renamed as Nutro Natural Choice.
Who Makes Nutro Dog Food?
The Nutro Company was founded in 1933 and was acquired by Mars Petcare in 2007. Its offices are located in Franklin, Tennessee.
Dry foods are produced at 2 company-owned facilities… one in Henderson, North Carolina and the other in Victorville, California. Wet recipes are manufactured at Nutro facilities in Columbus, Ohio, Fort Smith, Arkansas and North Sioux City, South Dakota.
Mars also owns the prestigious Waltham Petcare Science Institute in Leicestershire, England.
Has Nutro Dog Food Been Recalled?
Here's a list of all recalls since 2009 related to Nutro dog products. Updates are added as soon as new recalls are posted.
You can view a complete list of all dog food recalls here.
Get Free Lifesaving Recall Alerts
Get free recall alerts by email. Subscribe to The Dog Food Advisor's recall notification list.
Is Nutro a Good Dog Food?
Which Nutro Natural Choice Dry Recipes Get
Our Best Ratings?
Nutro Natural Choice earns the Advisor's second-highest tier rating of 4 stars.
The Nutro Natural Choice product line includes the 19 dry dog foods listed below.
Each recipe includes its AAFCO nutrient profile when available… Growth (puppy), Maintenance (adult), All Life Stages, Supplemental or Unspecified.
Recipe and Label Analysis
Nutro Natural Choice Adult Small Breed Chicken and Brown Rice was selected to represent the other products in the line for detailed recipe and nutrient analysis.
Label and nutrient data below are calculated using dry matter basis.
Nutro Natural Choice Adult Small Breed Chicken and Brown Rice
Dry Dog Food
Estimated Dry Matter Nutrient Content
Protein =
27
% | Fat =
18
% | Carbs =
48
%
Ingredients: Chicken, chicken meal, whole grain barley, split peas, brewers rice, whole grain brown rice, chicken fat (preserved with mixed tocopherols), natural flavor, rice bran, whole grain oatmeal, whole flaxseed, dried plain beet pulp, potassium chloride, choline chloride, citric acid (preservative), mixed tocopherols (preservative), chia seed, dried coconut, dl-methionine, dried tomato pomace, dried egg product, dried pumpkin, dried kale, dried spinach, salt, vitamin E supplement, ferrous sulfate, zinc oxide, sodium selenite, ascorbic acid (vitamin C), manganese sulfate, copper sulfate, d-calcium pantothenate, biotin, thiamine mononitrate (vitamin B1), vitamin B12 supplement, vitamin A supplement, niacin supplement, riboflavin supplement (vitamin B2), pyridoxine hydrochloride (vitamin B6), vitamin D3 supplement, manganous oxide, potassium iodide, folic acid, rosemary extract
Fiber (estimated dry matter content) = 3.9%
Red denotes controversial item
Estimated Nutrient Content
Method
Protein
Fat
Carbs
Guaranteed Analysis
24%
16%
NA
Dry Matter Basis
27%
18%
48%
Calorie Weighted Basis
23%
37%
41%
Protein =
23
% | Fat =
37
% | Carbs =
41
%
Ingredient Analysis
The first ingredient in this dog food is fresh chicken. Although it is a quality item, raw chicken contains up to 73% water. After cooking, most of that moisture is lost, reducing the meat content to just a fraction of its original weight.
After processing, this item would probably account for a smaller part of the total content of the finished product.
The second ingredient is chicken meal. Chicken meal is considered a meat concentrate and contains nearly 300% more protein than fresh chicken.
The third ingredient is barley. Barley is a starchy carbohydrate supplying fiber and other healthy nutrients. However, aside from its energy content, this cereal grain is of only modest nutritional value to a dog.
The fourth ingredient includes peas. Peas are a quality source of carbohydrates. And like all legumes, they're rich in natural fiber.
However, peas contain about 25% protein, a factor that must be considered when judging the meat content of this dog food.
Next, we find brewers rice. Brewers rice is a cereal grain by-product consisting of the small fragments left over after milling whole rice. Aside from the caloric energy it contains, this item is of only modest nutritional value to a dog.
The sixth ingredient is brown rice, a complex carbohydrate that (once cooked) can be fairly easy to digest. However, aside from its natural energy content, rice is of only modest nutritional value to a dog.
The seventh ingredient is chicken fat. This item is obtained from rendering chicken, a process similar to making soup in which the fat itself is skimmed from the surface of the liquid.
Chicken fat is high in linoleic acid, an omega-6 fatty acid essential for life. Although it doesn't sound very appetizing, chicken fat is actually a quality ingredient.
After the natural flavor, we find rice bran, a healthy by-product of milling whole grain rice. The bran is the fiber-rich outer layer of the grain containing starch, protein, fat as well as vitamins and minerals.
Other Notable Ingredients
From here, the list goes on to include a number of other items.
But to be realistic, ingredients located this far down the list (other than nutritional supplements) are not likely to affect the overall rating of this Nutro product.
With 7 notable exceptions…
First, we find flaxseed, one of the best plant sources of healthy omega-3 fatty acids. Provided they've first been ground into a meal, flax seeds are also rich in soluble fiber.
However, flaxseed contains about 19% protein, a factor that must be considered when judging the actual meat content of this dog food.
Next, we note the inclusion of beet pulp. Beet pulp is a controversial ingredient, a high fiber by-product of sugar beet processing.
Some denounce beet pulp as an inexpensive filler while others cite its outstanding intestinal health and blood sugar benefits.
We only call your attention here to the controversy and believe the inclusion of beet pulp in reasonable amounts in most dog foods is entirely acceptable.
In addition, we find chia seed, an edible seed nutritionally similar to flax or sesame. Provided they're first ground into a meal, chia seeds are rich in both omega-3 fatty acids as well as dietary fiber.
However, chia seeds contain about 17% protein, a factor that must also be considered when judging the amount of meat in this recipe.
We also find coconut in this product. Depending upon the quality of the raw material, coconut is rich in medium chain fatty acids.
Medium-chain triglycerides have been shown to improve cognitive function in older dogs.1
Because of its proven safety2 as well as its potential to help in the treatment of canine cognitive dysfunction syndrome (CDS) and chronic skin disorders, MCT can be considered a positive addition to this recipe.
Additionally, this recipe includes tomato pomace. Tomato pomace is a controversial ingredient, a by-product remaining after processing tomatoes into juice, soup and ketchup.
Many praise tomato pomace for its high fiber and nutrient content, while others scorn it as an inexpensive pet food filler.
Just the same, there's probably not enough tomato pomace here to make much of a difference.
We also note the use of sodium selenite, a controversial form of the mineral selenium. Sodium selenite appears to be nutritionally inferior to the more natural source of selenium found in selenium yeast.
And lastly, the minerals listed here do not appear to be chelated. And that can make them more difficult to absorb. Chelated minerals are usually associated with higher quality dog foods.
Nutrient Summary
Based on its ingredients alone, Nutro Natural Choice appears to be an above-average dry dog food.
The dashboard displays a dry matter protein reading of 27%, a fat level of 18% and estimated carbohydrates of about 48%.
As a group, the brand features an average protein content of 26% and a mean fat level of 14%. Together, these figures suggest a carbohydrate content of 52% for the overall product line.
And a fat-to-protein ratio of about 54%.
Which means this Nutro product line contains…
Near-average protein. Below-average fat. And above-average carbs when compared to a typical dry dog food.
Even when you consider the protein-boosting effect of the peas and flaxseed, this looks like the profile of a kibble containing a moderate amount of meat.
Near-average protein. Below-average fat. And above-average carbs when compared to a typical dry dog food.
Even when you consider the protein-boosting effect of the peas, flax and chia seeds, this looks like the profile of a kibble containing a moderate amount of meat.
Our Rating of Nutro Dog Food
The Dog Food Advisor finds Nutro to be a quality, grain-inclusive kibble. Each Natural Choice recipe uses a blend of fresh meat and meat meals as its dominant sources of animal protein… thus earning the brand 4 stars. Ultra dry recipes earn 4.5 stars.
Highly recommended.
What Do Others Say About Nutro?
As of the time of this update…
Chewy customers rate Nutro Dog Food 4.7 out of 5 stars… and 97% say they would recommend it to others.
Here's an actual user review…
Sample buyer review… "I really loved this food. Highly nutritious. Great price! I have 4 dogs who took to this food with a great liking after being on diamond brands for quite some time. No digestive upset during transition. They eat less and have less of the need to defecate and that is of well also. ( to put in nice terms). I highly recommend."
---
What Are Nutro's Best Recipes?
Based on the weighted average of their popularity and ratings, here are our 6 most recommended Nutro flavors and recipes.
---
Is Nutro Dog Food good for large breeds?
Nutro makes a number of dog foods that are safe for large breed adults. However, only certain recipes are designed to help prevent hip dysplasia and are safe for large breed puppies. Natural Choice Large Breed Puppy (chicken or lamb flavor) and Nutro Ultra Large Breed Puppy make safe options for this category. View our best large breed puppy foods here.
---
Is Nutro Dog Food good for older dogs?
Nutro formulas that contain ample amounts of protein but also include average to below-average levels of calories and fat can be safe for senior dogs. But that assumes they also meet all AAFCO nutrient guidelines for adult maintenance. Natural Choice Senior Chicken, Senior Small Breed and Ultra Senior make healthy options for older pets. View The Advisor's best senior dog foods here.
---
Is Nutro a healthy dog food?
All Nutro Dog Food recipes can be considered complete and balanced for the stage of life that's printed on each product label. Each contains 100% of the nutrients established by the Association of American Feed Control Officials (AAFCO)… and recommended by the National Research Council of the National Academies of Science in Washington, DC.
---
Is Nutro Dog Food grain free?
Nutro produces both grain-free and grain-inclusive recipes. Nutro Natural Choice and Nutro Ultra are both grain-inclusive dog foods. In contrast, Nutro Limited Ingredient kibbles and most Nutro wet recipes feature grain-free designs.
---
More Nutro Reviews
Here are more Nutro dog food reviews published by The Dog Food Advisor on this website.
---
Compare Nutro Dog Food
How does Nutro compare with The Dog Food Advisor's most recommended brands?
---
A Final Word
The Dog Food Advisor does not accept money, gifts, samples or other incentives in exchange for special consideration in preparing our reviews.
However, we do receive a referral fee from online retailers (like Chewy or Amazon) and from sellers of perishable pet food when readers click over to their websites from ours. This helps cover the cost of operation of our free blog. Thanks for your support.
For more information, please visit our Disclaimer and Disclosure page.
References
Pan Y et al, Dietary supplementation with medium-chain TAG has long-lasting cognition-enhancing effects in aged dogs, British Journal of Nutrition, Volume 103, Issue 12, June 2010, pp 1746-1754 ↩
Matulka RA et al, Lack of toxicity by medium chain triglycerides (MCT) in canines during a 90-day feeding study,Food Chem Toxicol, Jan 2009, 47(1) 35-9. ↩
12/06/2022 Last Update