What are the Best Dog Food Toppers on the Market?
Welcome to The Dog Food Advisor's picks for dog food toppers. Each month we'll be adding a selection we think your dog will love so keep an eye out if these don't work for you.
You'll also receive them if you sign up for our dog food recall alerts and tip-filled newsletter.
As with our Best Dog Treats and Best Dog Dental Chews, we don't analyze these in the same way we analyze dog food but we do look for good ingredients and no nasty additives.
What are dog food toppers?
Many dog parents will know the agony of trying to feed a fussy dog. They need the nutrients but for some reason would rather go hungry than eat perfectly good dog food.
It's frustrating and worrying in equal measure.
While we have a Best Dog Foods for Picky Eaters list, another technique for getting your dog to eat is to add toppers to their food. They come in various forms, from fresh foods and wet foods used in small amounts to raw meat, cooked meat, fruits and specifically designed wet and dry toppers. Anything that will encourage dogs to eat their meals!
This video from Chewy gives you an idea. It mentions particular brands but they are Chewy's choices (this doesn't mean they're bad, of course).
Here are our choices for Best Dog Food Toppers. We hope they leave you and your dog feeling on 'topper' the world!
---
Best Dog Food Toppers
March 2023
---
Use this Paté as a topper, treat, or even appetizer. The only ingredient is 100% chicken, which not only tastes great, but is also a high source of protein. Each can only contains 120 calories.
---
These superfood stews are a delicious alternative to dry toppers. The human-grade, natural ingredients include kale, spinach, and broccoli, and are high in protein. Flavors include lamb & beef, turkey, and chicken.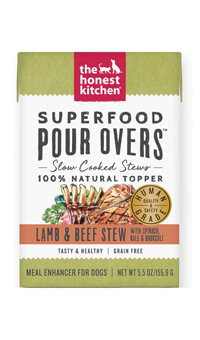 ---
Yep, you guessed it, the single ingredient in this topper is red beetroot. They're easily digestible and packed with nutrients to help with issues such as allergies, ear and yeast infections, and inflammation.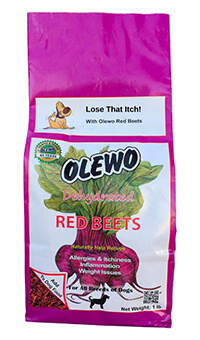 ---
Your dog will love this topper thanks to the real salmon and chicken liver pieces which are soaked in rich gravy. This recipe is also high in protein and grain-free.
---
Ollie provides fresh, natural meals for Fido with no artificial nasties. This half portion can be used as a nutritious topper and the best part is, you can customize the recipe and choose which meat you know your dog will love.
(You'll get 60% off your first Ollie order if you click through from Dog Food Advisor.)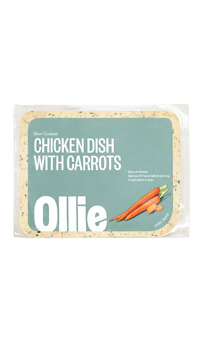 ---
---
A Final Word
The Dog Food Advisor does not accept money, gifts, samples or other incentives in exchange for special consideration in preparing our reviews.
However, we do receive a referral fee from online retailers (like Chewy or Amazon) and from sellers of perishable pet food when readers click over to their websites from ours. This helps cover the cost of operation of our free blog. Thanks for your support.
For more information, please visit our Disclaimer and Disclosure page.