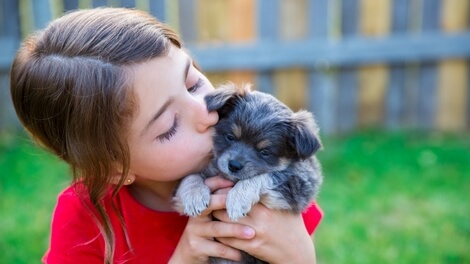 Puppy owners like to ask, "What's the best puppy food?"
But think about that for a moment.
HOW could a
one-size-fits-all puppy food
be best for every puppy?
Truth is…
There are 2 different TYPES of puppy food.
One designed for large breed puppies.
And another for smaller breeds.
Unfortunately…
Choosing the wrong one could cause permanent bone damage to your puppy.
Including a crippling form of hip dysplasia.
Especially for certain breeds.
Now…
Before you scroll down and choose one of our recommended puppy foods…
I'd like to share a quick story that clearly illustrates…
Why choosing a dog food based on your puppy's breed size is SO important.
A Tragic Story
When Katy first wrote me…
She was FRANTIC.
Seems her 2-year-old Lab, Beau, was beginning to have trouble with his rear legs.
Especially when he'd try to stand up after a nap.
He was obviously in pain.
Katy wanted to know if Beau's declining health could be related to the dog food she'd been feeding him.
Of course, I urged her to take Beau to a vet… right away.
But out of curiosity…
I also asked her if she could share with me the name of the food she'd been feeding him.
And I was SHOCKED by her answer.
You see…
Without realizing it…
Katy had been feeding Beau a dog food that contained too much calcium for his breed size.
Which caused his bones to grow too fast.
And his hip joints to become permanently deformed.
Creating the crippling hip dysplasia you see in this x-ray.
Here's the point…
Feeding a food that contains too much calcium can significantly increase your puppy's RISK of hip dysplasia.1
And other crippling bone diseases.
Which is why I urge you to choose a dog food that's designed to be safe for YOUR puppy's breed size…
What's Your Puppy's
Breed Size?
Large breed puppies are those whose adult weight is expected to be over 50 pounds.
Now…
Because larger breeds are at greater risk for hip dysplasia…
And since smaller breeds can safely eat a wide variety of puppy foods…
The Dog Food Advisor has created a special list of puppy foods that are best for EACH breed size.
Best Puppy Foods
November 2018
Click the link below that matches your puppy's breed size and your personal feeding preferences.
Richardson, Skeletal diseases of the growing dog: Nutritional influences and the role of diet, Canine Hip Dysplasia: A Symposium Held at Western Veterinary Conference, 1995 ↩