The Dog Food Advisor is a reference website designed to help you make a more informed decision when buying dog food.
It was founded in 2008 by Dr Mike Sagman after his unquestioning trust in commercial dog food led to the tragic loss of his beautiful dog Penny.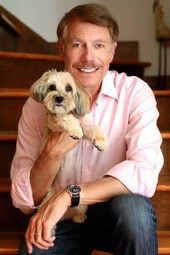 The desire to save dogs from a similar fate has driven every word and every piece of data on this site since.
When he retired from The Dog Food Advisor in January 2023, Mike passed on the responsibility of running the website to us — but on the understanding his good work continued.
And that's exactly what the current team at The Dog Food Advisor is doing.
We're a group of researchers, writers, editors, consultant veterinarians and nutritionists, and — most importantly — doting dog parents.
Our work is guided by Mike's principles of honesty, objectivity and following the science.
And our aim is simple: to make sure that every precious pup gets to eat the best dog food for them.
We Know Things About Dog Food
Even Your Vet Doesn't Know
No question about it. Your veterinarian can be a valuable source of information about canine nutrition.
However…
There's a lot more to know about dog food than canine nutrition.
Since 2008, The Dog Food Advisor has researched, reviewed and rated more than 5,373 dog food products.
We know who actually makes each dog food, the brand's recall history and the company's safety practices.
We know how to read labels and how to correctly interpret a recipe's nutritional content. We also know how to find out where the ingredients come from, which additives are safe and which ones are toxic.
We have dozens of other important facts and statistics about every product.
We've also uncovered, investigated and announced some 259 dog food and dog treat recall events.
That's every known recall in the United States and Canada, dating back to 2009.
In addition, because of our reputation for fairness, we also receive a continuous flood of insider tips and confidential information from our private network of:
Pet food company executives
Industry thought leaders
Whistleblowers
Nutritionists
Product designers
This is inside information not available anywhere else on the Internet.
We Obsess Over Dog Food
So You Don't Have To
The Dog Food Advisor's approach to evaluating dog food is based on one very important principle:
How can any dog food ever be magically better than the ingredients that were used to make it?
That's why it's so important for you to know what's actually in your dog's food — before you buy it. And the only reliable way we know to do that is to carefully examine the label.
Where We Get
Our Information
The many articles and reports you'll find here are the direct result of information we've personally aggregated from readily available public sources.
These sources include books, peer-reviewed journals and published research available at the United States National Institute of Health PubMed libraries.
And, of course, more importantly, from government-regulated pet food labels, too.
More about the
Dog Food Advisor
The Dog Food Advisor is not affiliated in any way with the pet food industry.
We do not accept money or samples from dog food companies in exchange for special consideration when reviewing or rating their dog food.
In addition, to avoid any influence from the industry:
We do not accept or allow paid advertising from pet food manufacturers.
To learn how we support the cost of operating this website, please feel free to visit our public Disclosure and Disclaimer page.
How You Can Help
Have you ever bought a dog food and discovered something about it you didn't like? Or maybe you finally found one you believe is the perfect choice for your dog.
Here's how you can help…
Simply share what you know about any dog food we review.
Your personal experience with different dog foods could provide valuable information for everyone. So, please leave your comments and opinions after any review you read or contact us here.
We'd love to hear from you — and so would the rest of the world's dog lovers.
Thanks so much for stopping by.
Julia, Andrew and The Dog Food Advisor team