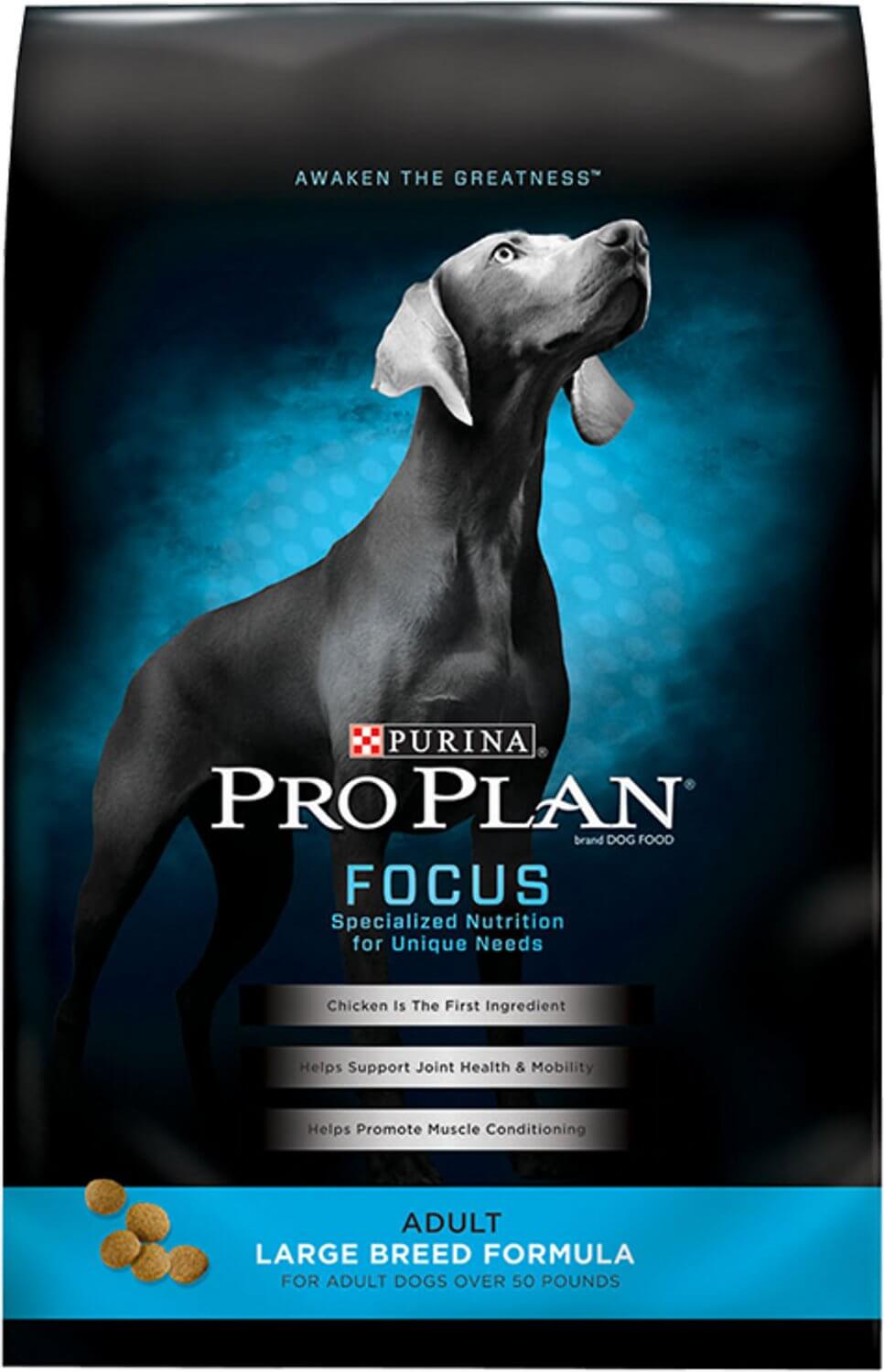 Purina Pro Plan Focus Dog Food receives the Advisor's second-highest tier rating of 4 stars.
The Purina Pro Plan Focus product line includes the 18 dry recipes listed below.
Each formula includes its related AAFCO nutrient profile when available on the product's official webpage: Growth, Maintenance, All Life Stages, Supplemental or Unspecified.
Use the links to check prices and package sizes at an online retailer.
Purina Pro Plan Focus Adult Large Breed formula was selected to represent the other products in the line for this review.
Purina Pro Plan Focus Adult Large Breed Formula
Dry Dog Food
Estimated Dry Matter Nutrient Content
Protein =
30
% | Fat =
14
% | Carbs =
49
%
Ingredients: Chicken, ground rice, whole grain wheat, corn gluten meal, whole grain corn, poultry by-product meal (source of glucosamine), beef tallow naturally preserved with mixed-tocopherols, barley, corn germ meal, dried egg product, fish meal (source of glucosamine), animal digest, fish oil, wheat bran, salt, mono and dicalcium phosphate, potassium chloride, vitamins [vitamin E supplement, niacin (vitamin B3), vitamin A supplement, calcium pantothenate (vitamin B5), thiamine mononitrate (vitamin B1), vitamin B12 supplement, riboflavin supplement (vitamin B2), pyridoxine hydrochloride (vitamin B6), folic acid (vitamin B9), menadione sodium bisulfite complex (vitamin K), vitamin D3 supplement, biotin (vitamin B7), ], potassium citrate, minerals [zinc sulfate, ferrous sulfate, manganese sulfate, copper sulfate, calcium iodate, sodium selenite], choline chloride, l-ascorbyl-2-polyphosphate (vitamin C), garlic oil
Fiber (estimated dry matter content) = 5.1%
Red denotes controversial item
Estimated Nutrient Content
Method
Protein
Fat
Carbs
Guaranteed Analysis
26%
12%
NA
Dry Matter Basis
30%
14%
49%
Calorie Weighted Basis
27%
30%
44%
Protein =
27
% | Fat =
30
% | Carbs =
44
%
The first ingredient in this dog food is chicken. Although it is a quality item, raw chicken contains up to 73% water. After cooking, most of that moisture is lost, reducing the meat content to just a fraction of its original weight.
After processing, this item would probably account for a smaller part of the total content of the finished product.
The second ingredient includes ground rice, another name for rice flour. Ground rice is made from either white or brown rice and is considered a gluten-free substitute for wheat flour.
The third ingredient is wheat. Like corn, wheat is an inexpensive and controversial cereal grain of only modest nutritional value to a dog.
For this reason, we do not consider wheat a preferred component in any dog food.
The fourth ingredient is corn gluten meal. Gluten is the rubbery residue remaining once corn has had most of its starchy carbohydrate washed out of it.
Although corn gluten meal contains 60% protein, this ingredient would be expected to have a lower biological value than meat.
And less costly plant-based products like this can notably boost the total protein reported on the label — a factor that must be considered when judging the actual meat content of this dog food.
The next ingredient is corn. Corn is another cereal grain and subject to the same issues as wheat (previously discussed).
The sixth item is poultry by-product meal, a dry rendered product of slaughterhouse waste. It's made from what's left of slaughtered poultry after all the prime cuts have been removed.
In addition to organs, this item can also include feet, beaks, undeveloped eggs and almost anything other than prime skeletal muscle.
On the brighter side, by-product meals are meat concentrates and contain nearly 300% more protein than fresh poultry.
The quality of this ingredient can vary, depending on the caliber of the raw materials obtained by the manufacturer.
We consider poultry by-products slightly lower in quality than a single-species ingredient (like chicken by-products).
The seventh ingredient is beef tallow, a fatty by-product of beef rendering. Tallow is high in saturated fats. However, this fat is typically associated with lower quality pet foods.
The eighth ingredient is barley. Barley is a starchy carbohydrate supplying fiber and other healthy nutrients. Unlike grains with a higher glycemic index, barley can help support more stable blood sugar levels.
The ninth ingredient is corn germ meal, a meal made from ground corn germ after much of the oil has been removed. Corn germ meal is a protein-rich by-product left over after milling corn meal, hominy grits and other corn products.
However, the protein found in corn germ meal (about 25% dry matter basis) must be considered when judging the meat content of this dog food.
The tenth ingredient is dried egg product, a dehydrated form of shell-free eggs. Quality can vary significantly. Lower grade egg product can even come from commercial hatcheries — from eggs that failed to hatch.
In any case, eggs are easy to digest and have an exceptionally high biological value.
From here, the list goes on to include a number of other items.
But to be realistic, ingredients located this far down the list (other than nutritional supplements) are not likely to affect the overall rating of this product.
With 6 notable exceptions…
First, animal digest is a chemically hydrolyzed mixture of animal by-products that is usually sprayed onto the surface of a dry kibble to improve its taste.
Next, wheat bran is made from the tough outer layer of a wheat kernel. Brans are especially rich in dietary fiber, protein, vitamins and minerals.
In addition, garlic can be a controversial item. Although many favor the ingredient for its claimed health benefits, garlic has been linked to Heinz body anemia in dogs.1
So, one must weigh the potential benefits of feeding garlic against its proven tendency to cause subclinical damage to the red blood cells of the animal.
Next, we find no mention of probiotics, friendly bacteria applied to the surface of the kibble after processing to help with digestion.
We also note that the minerals listed here do not appear to be chelated. And that can make them more difficult to absorb. Chelated minerals are usually associated with higher quality dog foods.
And lastly, this dog food contains menadione, a controversial form of vitamin K linked to liver toxicity, allergies and the abnormal break-down of red blood cells.
Since vitamin K isn't required by AAFCO in either of its dog food nutrient profiles, we question the use of this substance in any canine formulation.
Purina Pro Plan Focus
Dog Food Review
Based on its ingredients panel alone, Purina Pro Plan Focus looks like an average dry dog food.
The dashboard displays a dry matter protein reading of 30%, a fat level of 14% and estimated carbohydrates of about 49%.
As a group, the brand features an average protein content of 31% and a mean fat level of 18%. Together, these figures suggest a carbohydrate content of 43% for the overall product line.
And a fat-to-protein ratio of about 57%.
Which means that this Purina product line contains…
Above-average protein. Above-average fat. And below-average carbs when compared to other kibbles.
When you consider the protein-boosting effect of the corn gluten and corn germ meals, this looks like the profile of a kibble containing a moderate amount of meat.
Bottom line?
Purina Pro Plan Focus includes both with-grain and grain-free dry dog foods that incorporate a moderate amount of named meat and by-product meals as its main source of animal protein, thus earning the brand 4 stars.
Highly recommended.
---
More Top Picks
---
Purina Dog Food
Recall History
The following list (if present) includes all dog food recalls since 2009 directly related to this Purina product line. If there are no recalls listed in this section, we have not yet reported any events.
A Final Word
The Dog Food Advisor is privately owned. We do not accept money, gifts, samples or other incentives in exchange for special consideration in preparing our reviews.
However, we do receive a referral fee from online retailers (like Chewy or Amazon) when readers click over to their website from ours. This policy helps support the operation of our blog and keeps access to all our content free to the public.
For more information, please visit our Disclaimer and Disclosure page.
Important FDA Alert
The FDA is investigating a potential link between diet and heart disease in dogs. Click here for details.
Notes and Updates
Yamato et al, Heinz Body hemolytic anemia with eccentrocytosis from ingestion of Chinese chive (Allium tuberosum) and garlic (Allium sativum) in a dog, Journal of the American Animal Hospital Association 41:68-73 (2005) ↩
04/13/2020 Last Update