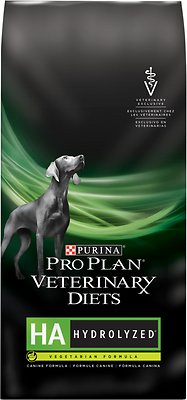 Which Pro Plan Veterinary Diets HA Recipes Get
Our Best Ratings?
Purina Pro Plan Veterinary Diets HA Hydrolyzed Dog Food is not rated due to its intentional therapeutic design.
The Purina Pro Plan Veterinary Diets HA Hydrolyzed product line includes the 2 dry dog foods listed below. Each is designed to help in the treatment of food sensitivities.
Each recipe includes its AAFCO nutrient profile when available… Growth (puppy), Maintenance (adult), All Life Stages, Supplemental or Unspecified.
Recipe and Label Analysis
Pro Plan Veterinary Diets HA Hydrolyzed Vegetarian Formula was selected to represent both products in the line for detailed recipe and nutrient analysis.
Label and nutrient data below are calculated using dry matter basis.
---
Pro Plan Veterinary Diets HA Hydrolyzed Vegetarian Formula
Dry Dog Food
Estimated Dry Matter Nutrient Content
Protein =
20
% | Fat =
9
% | Carbs =
63
%
Ingredients: Corn starch, hydrolyzed soy protein isolate, coconut oil, partially hydrogenated canola oil preserved with TBHQ, powdered cellulose, tricalcium phosphate, dicalcium phosphate, corn oil, potassium chloride, guar gum, salt, choline chloride, magnesium oxide, dl-methionine, taurine, zinc sulfate, vitamin E supplement, ferrous sulfate, manganese sulfate, niacin (vitamin B3), copper sulfate, vitamin A supplement, calcium pantothenate (vitamin B5), thiamine mononitrate (vitamin B1), riboflavin supplement (vitamin B2), vitamin B12 supplement, garlic oil, pyridoxine hydrochloride (vitamin B6), folic acid (vitamin B9), vitamin D3 supplement, calcium iodate, biotin (vitamin B7), menadione sodium bisulfite complex (vitamin K), sodium selenite
Fiber (estimated dry matter content) = 4.4%
Red denotes controversial item
Estimated Nutrient Content
Method
Protein
Fat
Carbs
Guaranteed Analysis
18%
8%
NA
Dry Matter Basis
20%
9%
63%
Calorie Weighted Basis
19%
21%
60%
Protein =
19
% | Fat =
21
% | Carbs =
60
%
Ingredient Analysis
The first ingredient in this dog food is corn starch, a starchy powder extracted from the endosperm found at the heart of a kernel of corn. Corn starch is most likely used here to thicken the broth into a gravy.
Corn starch isn't a true red flag item. Yet we've highlighted here for those wishing to avoid corn-based ingredients.
The second ingredient is hydrolyzed soy protein isolate. Soy protein isolate is a highly refined form of soybean protein with a protein content of about 90%.
In this case, the soy protein has been hydrolyzed which means it has been broken down into its individual amino acid components.
Hydrolyzed protein is valued by veterinary professionals because of its proven and effective hypoallergenic properties.
The third ingredient is coconut oil, a natural oil rich in medium-chain fatty acids.
Medium-chain triglycerides have been shown to improve cognitive function in older dogs.1
Because of its proven safety2 as well as its potential to help in the treatment of canine cognitive dysfunction syndrome (CDS) and chronic skin disorders, MCT can be considered a positive addition to this recipe.
The fourth ingredient is canola oil. Unfortunately, canola can be a controversial item. That's because it can sometimes (but not always) be derived from genetically modified rapeseed.
Yet others cite the fact that canola oil can be a significant source of essential omega-3 fatty acids.
In any case, plant-based oils like canola are less biologically available to a dog than fish oil as a source of quality omega-3 fats.
What's worse, this hydrogenated canola oil has also been preserved with TBHQ, a suspected cancer-causing agent.
The fifth ingredient is powdered cellulose, a non-digestible plant fiber usually made from the by-products of vegetable processing. Except for the usual benefits of fiber, powdered cellulose provides no nutritional value to a dog.
The sixth ingredient is tricalcium phosphate, a beneficial source of calcium and phosphorus. In addition, this additive is used in canned foods as an emulsifier — an agent designed to disperse a food's fats more evenly in water.
From here, the list goes on to include a number of other items.
But to be realistic, ingredients located this far down the list (other than nutritional supplements) are not likely to affect the overall rating of this Pro Plan Veterinary product.
With 7 notable exceptions…
First, we find corn oil. Corn oil has one of the highest (and most unfavorable) omega-6 to omega-3 fatty acid ratios of any vegetable oil. Compared to almost any named animal fat, corn oil cannot be considered a quality ingredient.
Next, garlic can be a controversial item. Although many favor the ingredient for its claimed health benefits, garlic has been linked to Heinz body anemia in dogs.3
So, one must weigh the potential benefits of feeding garlic against its proven tendency to cause subclinical damage to the red blood cells of the animal.
In addition, we find no mention of probiotics, friendly bacteria applied to the surface of the kibble after processing to help with digestion.
Next, the minerals listed here do not appear to be chelated. And that can make them more difficult to absorb. Chelated minerals are usually associated with higher quality dog foods.
We also note the use of taurine, an important amino acid associated with the healthy function of heart muscle. Although taurine is not typically considered essential in canines, some dogs have been shown to be deficient in this critical nutrient.
Since taurine deficiency appears to be more common in pets consuming grain-free diets, we view its presence in this recipe as a positive addition.
Another addition is sodium selenite, a controversial form of the mineral selenium. Sodium selenite appears to be nutritionally inferior to the more natural source of selenium found in selenium yeast.
And lastly, this recipe contains menadione, a controversial form of vitamin K linked to liver toxicity, allergies and the abnormal break-down of red blood cells.
Since vitamin K isn't required by AAFCO in either of its dog food nutrient profiles, we question the use of this substance in any canine formulation.
Nutrient Analysis
Although this is a prescription product, our review has nothing to do with the accuracy of claims made by the manufacturer as to the product's ability to treat or cure a specific health condition.
So, to find out whether or not this dog food is appropriate for your particular pet, it's important to consult your veterinarian.
With that understanding…
Based on its ingredients alone, Purina Pro Plan Veterinary Diets HA looks like a below-average dry kibble.
The dashboard displays a dry matter protein reading of 20%, a fat level of 9% and estimated carbohydrates of about 63%.
As a group, the brand features an average protein content of 20% and a mean fat level of 10%. Together, these figures suggest a carbohydrate content of 62% for the overall product line.
And a fat-to-protein ratio of about 49%.
Which means this Pro Plan product line contains…
Below-average protein. Below-average fat. And above-average carbs when compared to a typical dry dog food.
Because of its hypoallergenic design, this particular recipe contains no meat or any other source of animal protein. So, all essential amino acids appear to be provided by the hydrolyzed protein ingredient.
Our Rating of Purina Pro Plan Veterinary Diets HA Dog Food
Purina Pro Plan Veterinary Diets HA is a dry dog food using hydrolyzed soy as its main source of dietary protein.
---
---
Purina Pro Plan Veterinary Diets Recall History
The following automated list (if present) includes all dog food recalls related to Purina through February 2023.
You can view a complete list of all dog food recalls since 2009 here.
Get Free Recall Alerts
Get free dog food recall alerts sent to you by email. Subscribe to The Advisor's recall notification list.
More Purina Brand Reviews
The following Purina dog food reviews are also posted on this website:
A Final Word
The Dog Food Advisor is privately owned. We do not accept money, gifts, samples or other incentives in exchange for special consideration in preparing our reviews.
However, we do receive a referral fee from online retailers (like Chewy or Amazon) and from sellers of perishable pet food when readers click over to their websites from ours. This helps cover the cost of operation of our free blog. Thanks for your support.
For more information, please visit our Disclaimer and Disclosure page.
Important FDA Alert
The FDA is investigating a potential link between diet and heart disease in dogs. Click here for details.
References
Pan Y et al, Dietary supplementation with medium-chain TAG has long-lasting cognition-enhancing effects in aged dogs, British Journal of Nutrition, Volume 103, Issue 12, June 2010, pp 1746-1754 ↩
Matulka RA et al, Lack of toxicity by medium chain triglycerides (MCT) in canines during a 90-day feeding study,Food Chem Toxicol, Jan 2009, 47(1) 35-9. ↩
Yamato et al, Heinz Body hemolytic anemia with eccentrocytosis from ingestion of Chinese chive (Allium tuberosum) and garlic (Allium sativum) in a dog, Journal of the American Animal Hospital Association 41:68-73 (2005) ↩
10/14/2022 Last Update