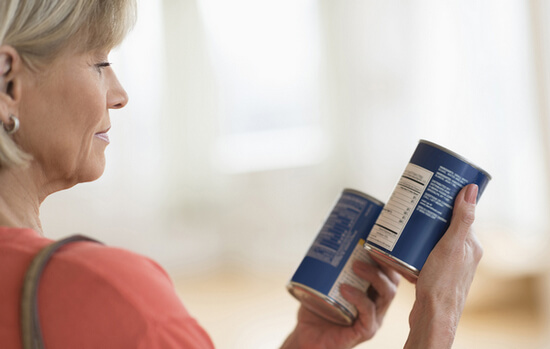 Moisture Content Makes
Comparing Dog Food Difficult
Without a measuring method known as dry matter basis, it can be impossible to accurately compare dog foods.
That's because pet food companies report the nutrient content of their products using something known as Guaranteed Analysis.
And on an "As Fed" basis… which means, as the food is dispensed from its container.
In essence, Guaranteed Analysis is the pet food industry's version of the Nutrition Facts "panel" printed on every package of human food sold in the U.S. and Canada.
The purpose of the Guaranteed Analysis panel is to make it easy for consumers to compare four critical nutrients…
Protein
Fat
Fiber
Moisture
However, when used alone, these numbers can be misleading.
That's because the system used for reporting the percentages fails to consider the varying amount of water present in different types of foods. And this can be a critical factor when comparing wet dog foods with dry kibbles.
Even the Food and Drug Administration warns of the importance of paying attention to this issue on its own website…1
"To make meaningful comparisons of nutrient levels between a canned and dry product, they should be expressed on the same moisture basis."
Dry Matter Basis Explained
So, when comparing the nutrient content of different products, it's important to first remove 100 percent of the moisture content from every dog food being evaluated.
This moisture-free approach to stating the true nutrient content of any food is known as dry matter basis.
Let's say you have a can of dog food listing a Guaranteed Analysis protein figure of 10%. This is the protein content just as it's fed from the can — what the industry refers to as "as fed basis".
Doesn't sound like much protein, does it?
However, what if that same label revealed the product contained 75% moisture? And what if you were to completely remove all that water from the can?
You'd be left with just 25% "dry matter". 
To determine the amount of protein on a dry matter basis, simply divide the reported amount of protein (in this case, 10%) by the total amount of dry matter (25%) in the can.
Then, multiply the result by 100.
Dry Matter Protein Content = (10/25) x 100 = 40%
That gives you a dry matter protein content of 40% — a lot more than the label's reported protein content of 10%. That's four times the amount of protein as indicated by the Guaranteed Analysis.
By the way, this same method for computing dry matter basis works for any other nutrient, too.
Using Dry Matter Basis to Compare Dog Foods
Now, as long as you're comparing canned food to canned food, dry matter basis isn't that important.
However, when you're comparing canned food to dry kibble, the issue becomes critical.
For example, say you'd like to compare two products — a can of dog food with a bag of kibble.
The canned "wet" product lists protein content at 10% and the dry kibble reports protein at 23%.
At first glance, the kibble looks like it contains more protein. Right?
Well, now, let's use dry matter to level the playing field.
Using Guaranteed Analysis, the wet food shows a water content of 75% and the kibble, just 10%.
Now, let's remove all the water from both dog foods. Take a look at the protein values after converting the data to dry matter basis…

The canned product now lists 40% protein, compared to kibble's 26% figure? The wet food contains much more protein — on a dry matter basis — than does the kibble.
The Bottom Line
On the surface, when reading a package label, canned dog foods almost always look inferior to their kibble counterparts.
However, looks can be deceiving.
So, don't be fooled by a dog food label's protein or fat numbers. When comparing the nutrient content of two or more dog foods, be sure to first convert the labels' figures to dry matter basis.
Our Editor's Top Picks
August 2023
To view The Dog Food Advisor's most recommended brands, click the link below that best meets your personal feeding needs.
References
"Pet Food Labels", Center for Veterinary Medicine, U. S. Food and Drug Administration ↩