Is Merrick a good dog food?
In this review… The Dog Food Advisor takes a candid look at Merrick Dog Food… and its most important sub-brands.
We'll also cover…
Is Merrick made in the United States?
Has Merrick been recalled?
Which flavors and recipes get our top ratings?
But first…
Which Merrick Sub-Brand Is Right for You?
Here are Merrick's 6 most popular sub-brands. Below, we'll share what makes each one different. So you can choose the food that best suits your dog.
Merrick Classic is for those who prefer a traditional dry dog food that's made with grain.
Contains no BHA or other high-risk preservatives
Healthy grain-inclusive formula
13 recipes (ratings vary)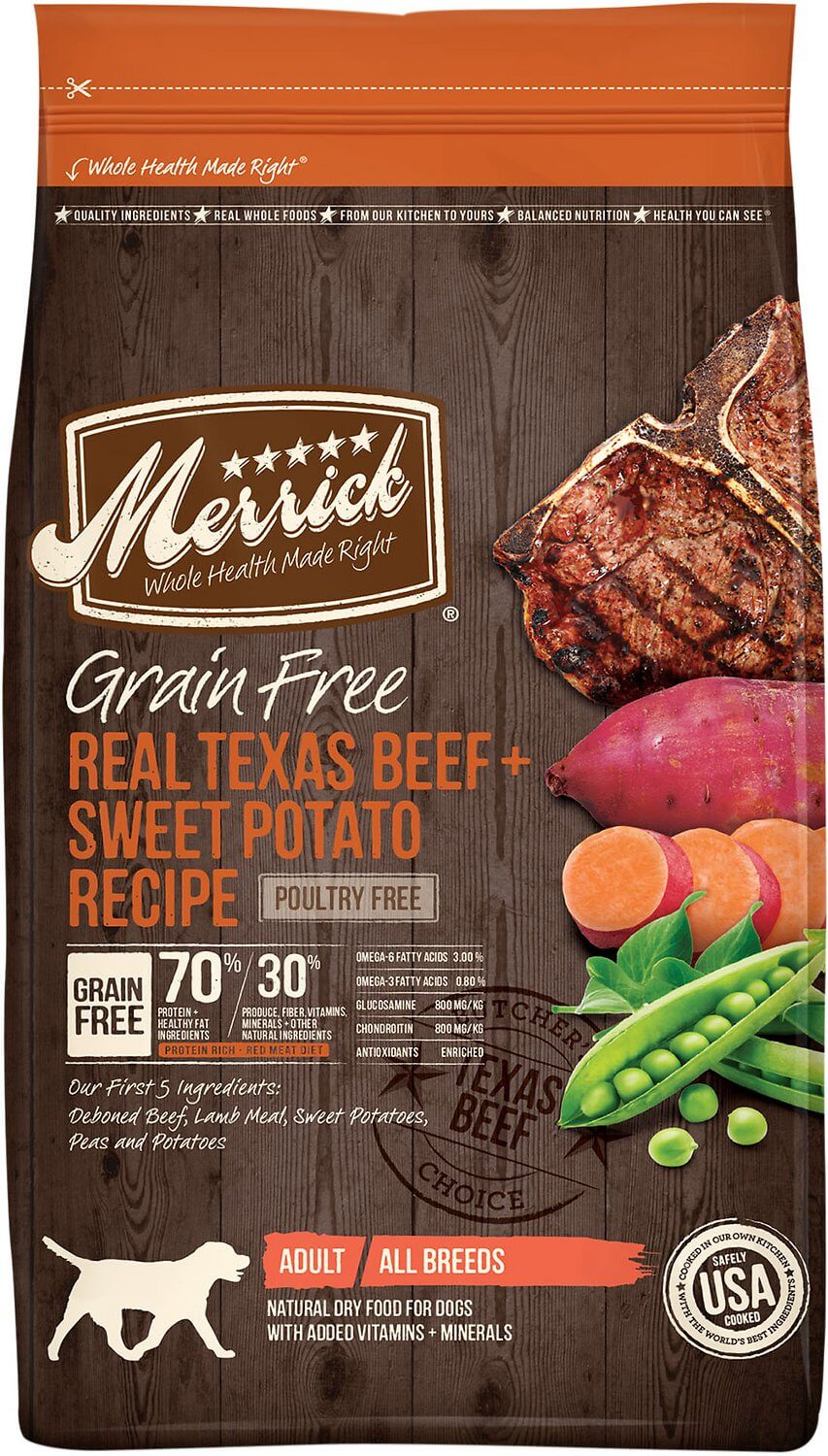 Merrick Grain-Free is ideal for those seeking a dry food that's made without grain.
Merrick's most popular sub-brand
Contains no corn, wheat or rice
14 recipes (ratings vary)
This sub-brand includes Merrick's best-selling, grain-free wet recipes. Some available in certain seasons.
No corn, wheat, barley or rice
Chunky or fine-ground options
10 recipes (ratings vary)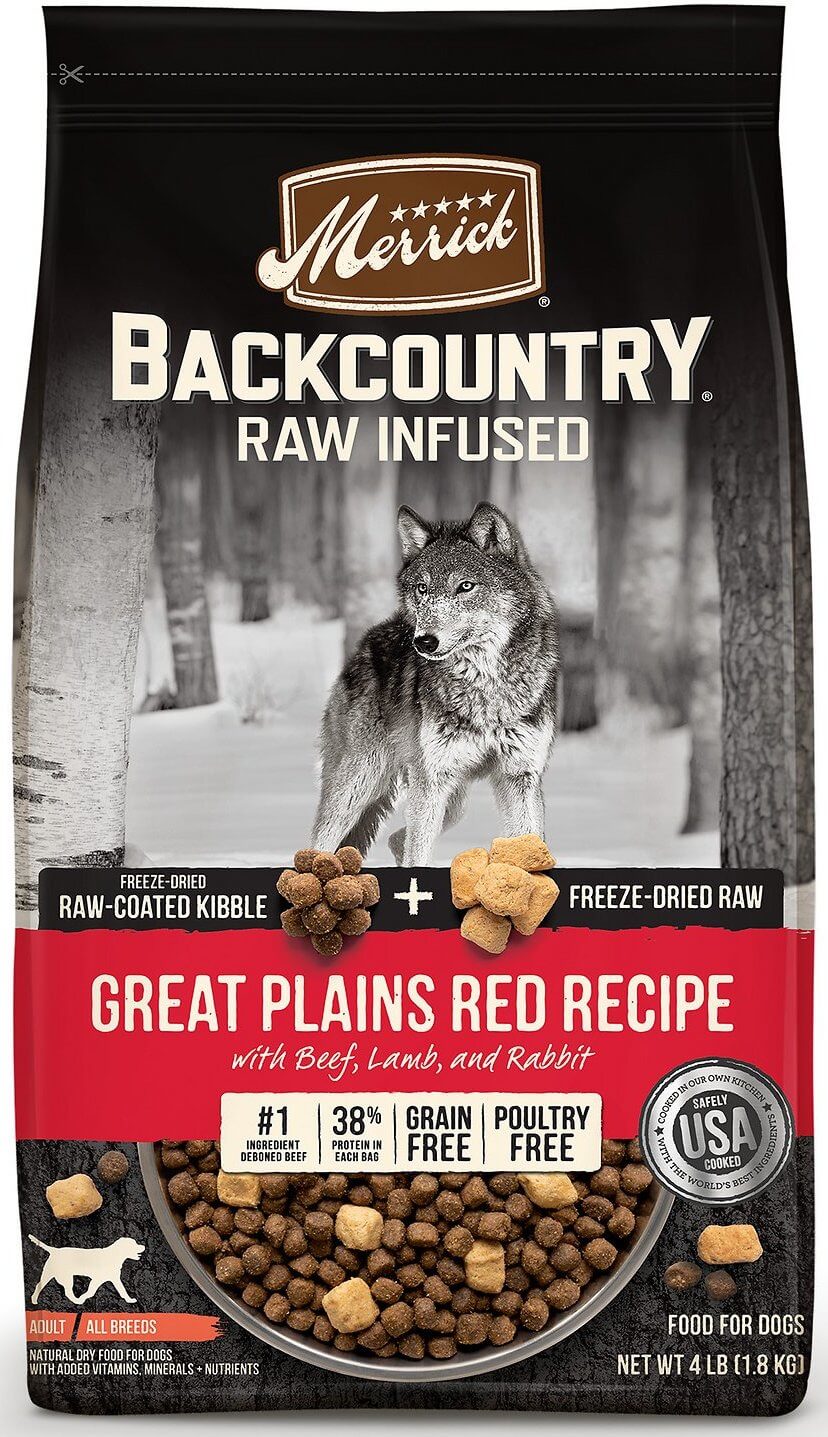 Backcountry recipes start with freeze-dried, raw-coated kibble. Then blend in pieces of real, freeze-dried raw meat, fish, or poultry.
Grain-free. Contains sweet potato
Includes novel protein, like rabbit, venison, or duck
12 recipes (ratings vary)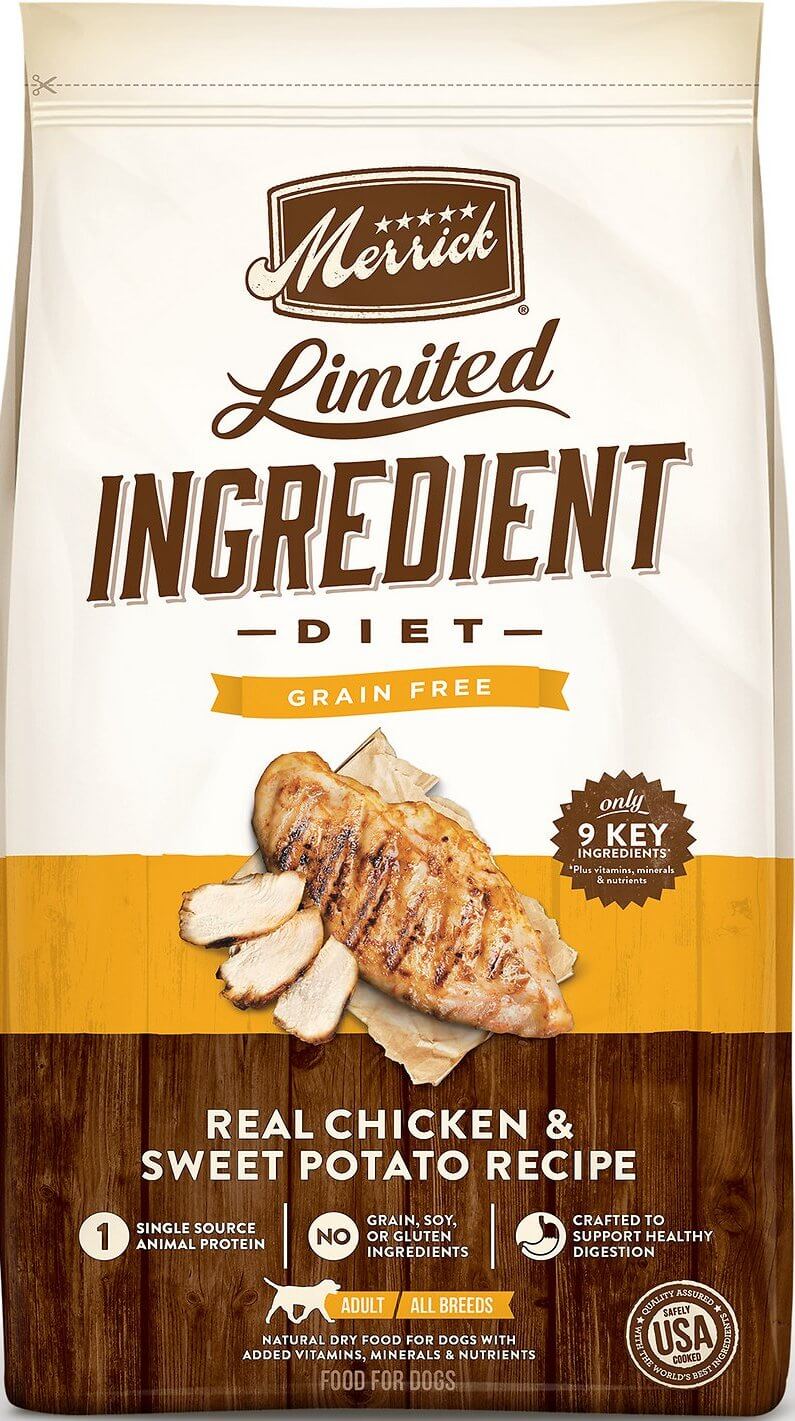 Merrick Limited Ingredient Diet is a grain-free kibble that can be helpful for dogs with food sensitivities or allergies.
Only 9 key ingredients for easier digestion
Contains fiber-rich sweet potato
5 recipes (ratings vary)
Lil' Plates is Merrick's grain-free wet sub-brand designed especially for small dogs.
Contains no corn, soy or grain
Uses prebiotics and probiotics for healthy digestion
8 recipes (ratings vary)
Who Makes Merrick Dog Food?
All Merrick dog foods are produced in the United States. Most of the brand's dry and wet recipes are manufactured at one of its 3 company-owned facilities in Hereford, Texas. Unlike most pet food brands, Merrick owns its own cannery.
Merrick also owns Castor and Pollux Natural Petworks (a quality brand known for its certified organic dog and cat foods)… and produces Whole Earth Farms pet foods, too.
Merrick was sold to Nestle Purina PetCare in 2015.
Has Merrick Dog Food Been Recalled?
Here's a list of all recalls since 2009 related to Merrick dog products. Updates are added as soon as new recalls are posted.
You can view a complete list of all dog food recalls here.
Get Free Recall Alerts
Get lifesaving dog food recall alerts sent to you by email. Subscribe to The Advisor's emergency recall notification list.
Is Merrick a Good Dog Food?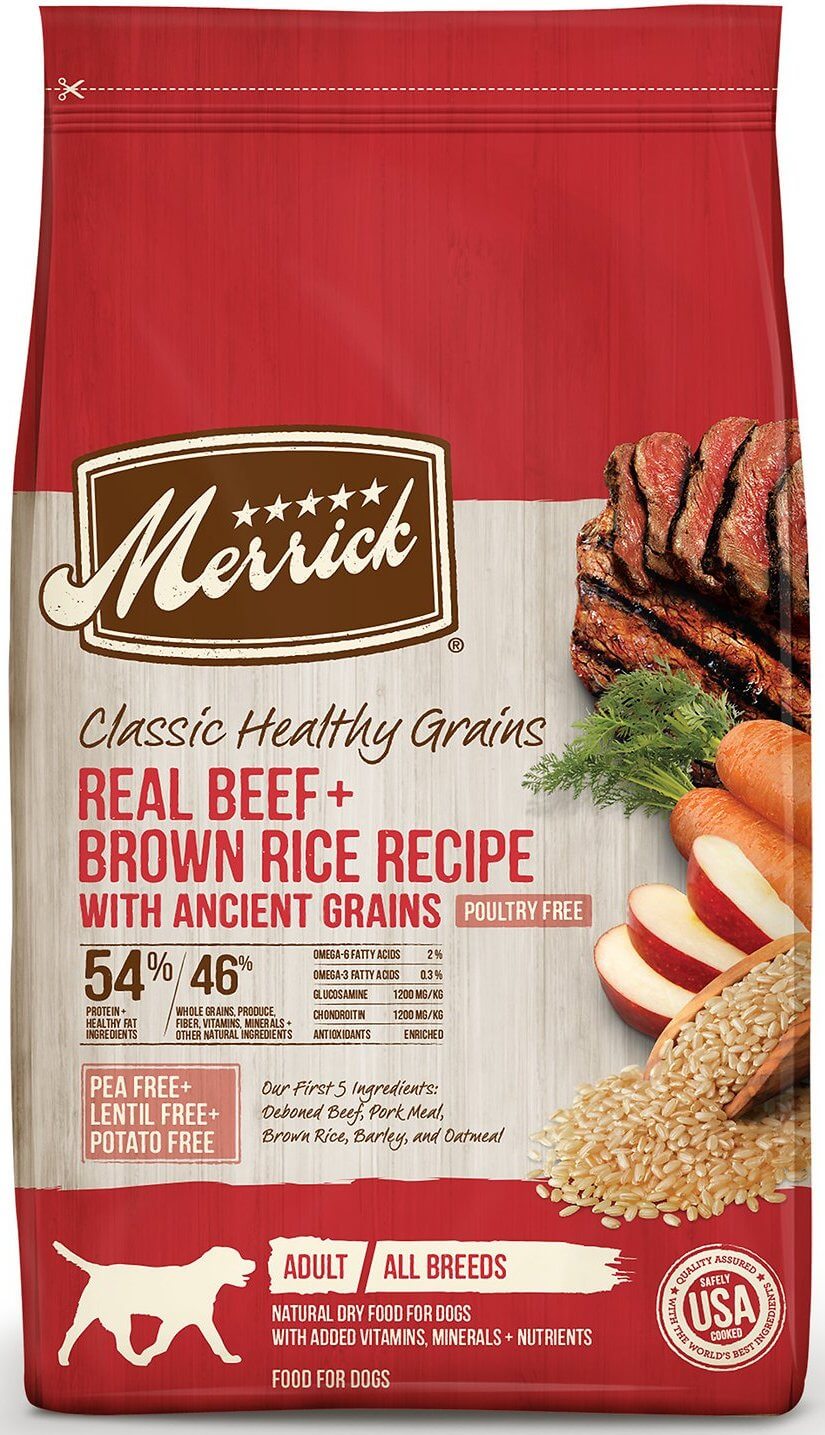 Which Merrick Classic Healthy Grains Dry Recipes Get
Our Best Ratings?
Merrick Classic Healthy Grains Dog Food receives the Advisor's best rating of 5 stars.
The Merrick Classic Healthy Grains product line includes the 13 dry dog foods listed below.
Each recipe includes its AAFCO nutrient profile when available… Growth (puppy), Maintenance (adult), All Life Stages, Supplemental or Unspecified.
Recipe and Label Analysis
Merrick Classic Healthy Grains Real Beef and Brown Rice Recipe was selected to represent the other products in the line for detailed recipe and nutrient analysis.
Label and nutrient data below are calculated using dry matter basis.
Merrick Classic Healthy Grains Real Beef and Brown Rice
Dry Dog Food
Estimated Dry Matter Nutrient Content
Protein =
29
% | Fat =
17
% | Carbs =
46
%
Ingredients: Deboned beef, pork meal, brown rice, barley, oatmeal, pork fat, salmon meal, natural flavor, lamb meal, quinoa, flaxseed, salt, sunflower oil, organic dehydrated alfalfa meal, potassium chloride, choline chloride, carrots, apples, minerals (iron amino acid complex, zinc amino acid complex, zinc sulfate, sodium selenite, manganese amino acid complex, copper amino acid complex, potassium iodide, cobalt proteinate, cobalt carbonate), taurine, chia seed, Yucca schidigera extract, mixed tocopherols for freshness, vitamins (vitamin E supplement, vitamin B12 supplement, vitamin A acetate, d-calcium pantothenate, thiamine mononitrate, niacin, riboflavin supplement, biotin, vitamin D3 supplement, folic acid, pyridoxine hydrochloride), citric acid for freshness, dried Lactobacillus plantarum fermentation product, dried Lactobacillus casei fermentation product, dried Enterococcus faecium fermentation product, dried Lactobacillus acidophilus fermentation product
Fiber (estimated dry matter content) = 3.9%
Red denotes controversial item
Estimated Nutrient Content
Method
Protein
Fat
Carbs
Guaranteed Analysis
26%
15%
NA
Dry Matter Basis
29%
17%
46%
Calorie Weighted Basis
25%
35%
40%
Protein =
25
% | Fat =
35
% | Carbs =
40
%
Ingredient Analysis
The first ingredient in this dog food is beef. Although it's a quality item, raw beef contains up to 73% water. After cooking, most of that moisture is lost, reducing the meat content to just a fraction of its original weight.
After processing, this item would probably account for a smaller part of the total content of the finished product.
The second ingredient is pork meal. Pork meal is considered a meat concentrate and contains nearly 300% more protein than fresh pork.
The third ingredient is brown rice, a complex carbohydrate that (once cooked) can be fairly easy to digest. However, aside from its natural energy content, rice is of only modest nutritional value to a dog.
The next ingredient is barley. Barley is a starchy carbohydrate supplying fiber and other healthy nutrients. However, aside from its energy content, this cereal grain is of only modest nutritional value to a dog.
The fifth item is oatmeal, a whole-grain product made from coarsely ground oats. Oatmeal is naturally rich in B-vitamins, dietary fiber and can be (depending upon its level of purity) gluten-free.
The sixth ingredient is pork fat, a product from rendering pig meat.
Commonly known as lard, pork fat can add significant flavor to any dog food. And it can be high in linoleic acid, an omega-6 fatty acid essential for life.
Although it may not sound very appetizing, pork fat (in moderate amounts) is actually an acceptable pet food ingredient.
The seventh ingredient is salmon meal, another protein-rich meat concentrate.
Fish meal is typically obtained from the "clean, dried, ground tissue of undecomposed whole fish and fish cuttings" of commercial fish operations.1
After the natural flavor, we find lamb meal, yet another high protein meat concentrate.
The next ingredient is quinoa. Quinoa (pronounced keen-wah) is not a true cereal grain but a plant prized for its gluten-free seeds.
Compared to most other grain-type ingredients, it is high in protein (about 12-18%), dietary fiber and other healthy nutrients.
Other Notable Ingredients
From here, the list goes on to include a number of other items.
But to be realistic, ingredients located this far down the list (other than nutritional supplements) are not likely to affect the overall rating of this product.
With 8 notable exceptions…
First, we find flaxseed, one of the best plant sources of healthy omega-3 fatty acids. Provided they've first been ground into a meal, flax seeds are also rich in soluble fiber.
However, flaxseed contains about 19% protein, a factor that must be considered when judging the actual meat content of this dog food.
Next, although alfalfa meal is high in plant protein (about 18%) and fiber (25%), this hay-family item is more commonly associated with horse feed.
In addition, sunflower oil is nutritionally similar to safflower oil. Since these oils are high in omega-6 fatty acids and contain no omega-3's, they're considered less nutritious than canola or flaxseed oils.
Sunflower oil is notable for its resistance to heat damage during cooking.
There are several different types of sunflower oil, some better than others. Without knowing more, it's impossible to judge the quality of this ingredient.
Next, we note the inclusion of chia seed, an edible seed nutritionally similar to flax or sesame. Provided they're first ground into a meal, chia seeds are rich in both omega-3 fatty acids as well as dietary fiber.
However, chia seeds contain about 17% protein, a factor that must be considered when judging the meat content of this dog food.
We also note the use of taurine, an important amino acid associated with the healthy function of heart muscle. Although taurine is not typically considered essential in canines, some dogs have been shown to be deficient in this critical nutrient.
Additionally, this recipe includes dried fermentation products. Fermentation products are typically added as probiotics to aid with digestion.
This recipe also has sodium selenite, a controversial form of the mineral selenium. Sodium selenite appears to be nutritionally inferior to the more natural source of selenium found in selenium yeast.
And lastly, this food contains chelated minerals, minerals that have been chemically attached to protein. This makes them easier to absorb. Chelated minerals are usually found in better dog foods.
Nutrient Summary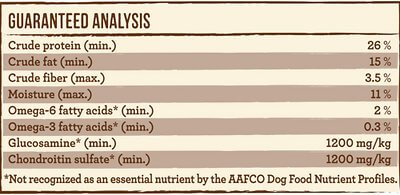 Based on its ingredients alone, Merrick Classic appears to be an above-average dry dog food.
The dashboard displays a dry matter protein reading of 29%, a fat level of 17% and estimated carbohydrates of about 46%.
As a group, the brand features an average protein content of 30% and a mean fat level of 17%. Together, these figures suggest a carbohydrate content of 45% for the overall product line.
And a fat-to-protein ratio of about 57%.
Which means this Merrick product line contains…
Above-average protein. Near-average fat. And below-average carbs when compared to other dry dog foods.
Our Rating of Merrick Dog Food
The Dog Food Advisor finds Merrick to be an above-average, grain-inclusive kibble. The Classic recipe appears to use a significant amount of named meat meal as its dominant source of animal protein… thus earning the brand 5 stars. The grain-free dry recipes get 5 stars. Enthusiastically recommended.
What Do Others Say About Merrick?
As of the time of this update…
Chewy customers rate Merrick Grain-Free 4.6 out of 5 stars… and 93% say they would recommend it to others.
Here's an actual user review…
Sample buyer review… "I'm one to constantly look for the best to feed my dogs. I believe in researching ingredients and paying attention to the order in which they are listed on the product itself. I'm even ultra-particular when it comes to the water that they drink. All of this combined is leading to long lives for my two Corgis. I switched from another famous natural brand to Merrick chicken and sweet potato based on what I read from other people, the ingredient list and the history of the Merrick product. There's no question that dogs, like people, do better with quality foods as opposed to foods lacking in certain proteins, vitamins and minerals. Merrick is a premium food of which, my dogs (and yours) will benefit highly. I recommend this completely."
---
What Are Merrick's Best Recipes?
Based on a weighted average of popularity and ratings, here are our 7 most recommended Merrick flavors and recipes.
---
Is Merrick dog food good for puppies?
Merrick offers 9 nutritionally complete and balanced puppy foods. The full line includes one grain-inclusive puppy food, 3 grain-free puppy foods, 2 freeze-dried raw coated puppy foods and 3 wet puppy foods. Each recipe meets AAFCO nutrient profiles for either growth or all life stages.
---
Is Merrick dog food good for seniors?
Merrick offers 2 senior dog foods designed specifically for older animals. Each recipe contains over 35% dry matter protein and less than 13% dry matter fat. Calorie content remains under 370 calories per cup. Both recipes meet AAFCO nutrient guidelines for adult maintenance… which makes them each a healthy option for senior dogs.
---
Is Merrick considered a healthy dog food?
All Merrick dog foods meet dog food nutrient guidelines published by the Association of American Feed Control Officials. Each recipe is considered complete and balanced for specific life stages… according to nutrient standards posted by the National Research Council of the National Academies of Science in Washington, D.C.
---
Is Merrick dog food grain free?
Merrick offers both grain-inclusive and grain-free dog foods. At of our most recent update, the company markets 36 grain-free dry dog foods and 60 grain-free wet recipes. In addition, Merrick also produces 14 grain-inclusive dry foods. The brand markets no grain-inclusive wet options.
---
More Merrick Reviews
Here are more Merrick dog food reviews published by The Dog Food Advisor on this website.
---
Compare Merrick Dog Food
How does Merrick compare with The Dog Food Advisor's most recommended brands?
---
A Final Word
The Dog Food Advisor does not accept money, gifts, samples or other incentives in exchange for special consideration in preparing our reviews.
However, we do receive a referral fee from online retailers (like Chewy or Amazon) and from sellers of perishable pet food when readers click over to their websites from ours. This helps cover the cost of operation of our free blog. Thanks for your support.
For more information, please visit our Disclaimer and Disclosure page.
References
Association of American Feed Control Officials ↩
01/10/2023 Last Update