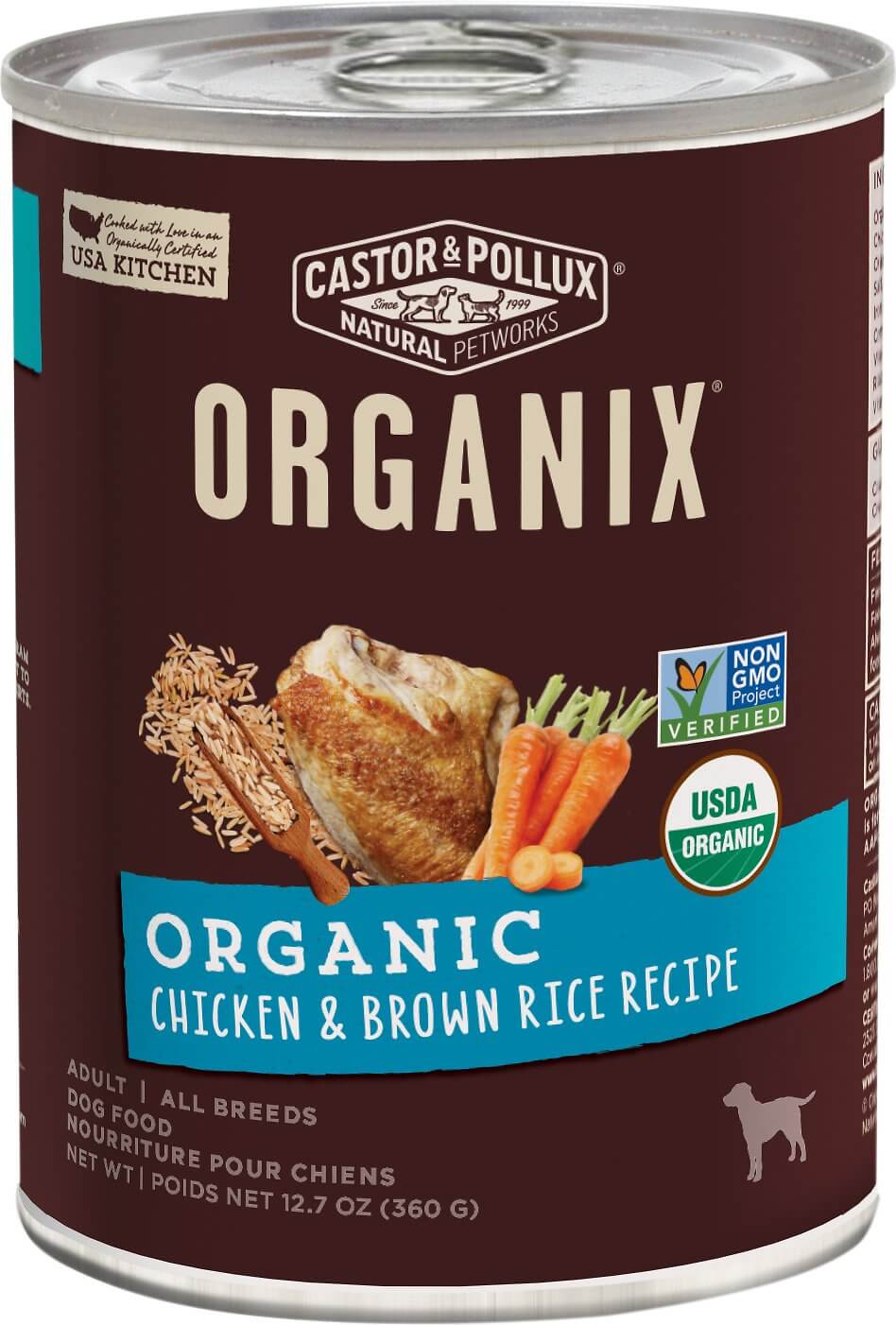 Which Castor and Pollux Recipes Get
Our Best Ratings?
Castor and Pollux Organix canned dog food receives the Advisor's mid-tier rating of 3.5 stars.
The Castor and Pollux Organix product line includes one canned dog food, a recipe claimed to meet AAFCO nutrient guidelines for adult maintenance.
Recipe and Label Analysis
Label and nutrient data below are calculated using dry matter basis.
---
Castor and Pollux Organix Chicken and Brown Rice
Canned Dog Food
Estimated Dry Matter Nutrient Content
Protein =
32
% | Fat =
27
% | Carbs =
33
%
Ingredients: Organic chicken, water sufficient for processing, organic brown rice, organic chicken liver, organic carrots, organic potatoes, organic coconut flour, organic flaxseed, organic apples, organic blueberries, tricalcium phosphate, salt, organic guar gum, choline chloride, minerals (zinc amino acid complex, iron amino acid complex, copper amino acid complex, manganese amino acid complex, sodium selenite, calcium iodate), vitamins (vitamin E supplement, vitamin A supplement, niacin, thiamine mononitrate, d-calcium pantothenate, riboflavin supplement, vitamin D3 supplement, pyridoxine hydrochloride, vitamin B12 supplement, folic acid), organic garlic powder, potassium chloride
Fiber (estimated dry matter content) = 4.5%
Red denotes controversial item
Estimated Nutrient Content
Method
Protein
Fat
Carbs
Guaranteed Analysis
7%
6%
NA
Dry Matter Basis
32%
27%
33%
Calorie Weighted Basis
24%
51%
25%
Protein =
24
% | Fat =
51
% | Carbs =
25
%
Ingredient Analysis
The first ingredient in this dog food is organic chicken. Chicken is considered "the clean combination of flesh and skin… derived from the parts or whole carcasses of chicken".1
Chicken is naturally rich in the ten essential amino acids required by a dog to sustain life.
The second ingredient is water, which adds nothing but moisture to this food. Water is a routine finding in most canned dog foods.
The third ingredient is organic brown rice, a complex carbohydrate that (once cooked) can be fairly easy to digest. However, aside from its natural energy content, rice is of only modest nutritional value to a dog.
The fourth ingredient includes organic chicken liver. This is an organ meat sourced from a named animal and thus considered a beneficial component.
The fifth ingredient lists organic carrots. Carrots are rich in beta-carotene, minerals and dietary fiber.
The sixth ingredient is organic potato. Potatoes can be considered a gluten-free source of digestible carbohydrates. Yet with the exception of perhaps their caloric content, potatoes are of only modest nutritional value to a dog.
The seventh ingredient is organic coconut flour, a powder derived from dried, defatted coconut meat. This cereal grain replacement is high in fiber and low in digestible carbohydrates. In addition, coconut flour also contains about 18% protein, a factor that must be considered when judging the actual meat content of this dog food.
The eighth ingredient is organic flaxseed, one of the best plant sources of healthy omega-3 fatty acids. Provided they've first been ground into a meal, flax seeds are also rich in soluble fiber.
However, flaxseed contains about 19% protein, a factor that must be considered when judging the actual meat content of this dog food.
The ninth ingredient includes organic apple, a nutrient-rich fruit that's also high in fiber.
From here, the list goes on to include a number of other items.
But to be realistic, ingredients located this far down the list (other than nutritional supplements) are not likely to affect the overall rating of this Castor and Pollux product.
With 3 notable exceptions…
First, garlic can be a controversial item. Although many favor the ingredient for its claimed health benefits, garlic has been linked to Heinz body anemia in dogs.2
So, one must weigh the potential benefits of feeding garlic against its proven tendency to cause subclinical damage to the red blood cells of the animal.
Next, this recipe contains sodium selenite, a controversial form of the mineral selenium. Sodium selenite appears to be nutritionally inferior to the more natural source of selenium found in selenium yeast.
And lastly, this food includes chelated minerals, minerals that have been chemically attached to protein. This makes them easier to absorb. Chelated minerals are usually found in better dog foods.
Nutrient Analysis
Since this recipe contains a number of organic ingredients, we feel compelled to grant this line a more favorable status as we consider its final rating.
That's because organic ingredients must comply with notably more stringent government standards — standards which significantly restrict the use of any synthetic pesticides, herbicides, insecticides, hormones or antibiotics.
With that in mind…
Based on its ingredients alone, Castor and Pollux Organix canned dog food looks like an above-average wet product.
The dashboard displays a dry matter protein reading of 32%, a fat level of 27% and estimated carbohydrates of about 33%.
And a fat-to-protein ratio of about 86%.
Which means this Castor and Pollux product contains…
Near-average protein. Above-average fat. And above-average carbs when compared to a typical wet dog food.
Even when you consider the protein-boosting effect of the flaxseed, this looks like the profile of a wet product containing a moderate amount of meat.
However, with 51% of the total calories in this recipe coming from fat versus just 24% from protein, this food may not be suitable for pets on a low fat diet.
Our Rating of Castor and Pollux Dog Food
Castor and Pollux Organix is a grain-inclusive canned dog food using a moderate amount of named meats as its dominant source of animal protein, thus earning the brand 3.5 stars.
Recommended.
Castor and Pollux Dog Food Recall History
The following automated list (if present) includes all dog food recalls related to Castor and Pollux through February 2023.
No recalls noted
You can view a complete list of all dog food recalls since 2009 here.
Get Free Recall Alerts
Get free dog food recall alerts sent to you by email. Subscribe to The Advisor's recall notification list.
Related Topics
Readers interested in Castor and Pollux wet dog food may also wish to check out these popular pages, too…
More Castor and Pollux Reviews
The following Castor and Pollux dog food reviews are also posted on this website:
A Final Word
The Dog Food Advisor is privately owned. We do not accept money, gifts, samples or other incentives in exchange for special consideration in preparing our reviews.
However, we do receive a referral fee from online retailers (like Chewy or Amazon) and from sellers of perishable pet food when readers click over to their websites from ours. This helps cover the cost of operation of our free blog. Thanks for your support.
For more information, please visit our Disclaimer and Disclosure page.
Important FDA Alert
The FDA is investigating a potential link between diet and heart disease in dogs. Click here for details.
References
Association of American Feed Control Officials ↩
Yamato et al, Heinz Body hemolytic anemia with eccentrocytosis from ingestion of Chinese chive (Allium tuberosum) and garlic (Allium sativum) in a dog, Journal of the American Animal Hospital Association 41:68-73 (2005) ↩
04/16/2022 Last Update