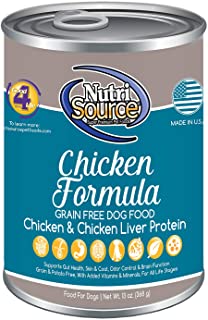 Which NutriSource Grain Free Wet Recipes Get
Our Best Ratings?
NutriSource Grain Free canned dog food receives the Advisor's second-highest tier rating of 4 stars.
The NutriSource Grain Free product line includes the 3 canned dog foods listed below.
Each recipe includes its AAFCO nutrient profile when available… Growth (puppy), Maintenance (adult), All Life Stages, Supplemental or Unspecified.
Recipe and Label Analysis
NutriSource Grain Free Chicken Formula was selected to represent the other products in the line for detailed recipe and nutrient analysis.
Label and nutrient data below are calculated using dry matter basis.
---
NutriSource Grain Free Chicken Formula
Canned Dog Food
Estimated Dry Matter Nutrient Content
Protein =
46
% | Fat =
25
% | Carbs =
22
%
Ingredients: Chicken, chicken broth, chicken liver, chickpeas, agar-agar, salmon oil, potassium chloride, salt, dicalcium phosphate, natural pork flavor, dried cranberries, taurine, choline chloride, hydrolyzed yeast, zinc proteinate, iron proteinate, dried kelp, yucca schidigera extract, selenium yeast, brewers dried yeast, vitamin E supplement, copper proteinate, vitamin B3 (niacin), manganese proteinate, vitamin B1 (thiamine mononitrate), vitamin B5 (calcium pantothenate), vitamin A supplement, vitamin B2 (riboflavin), vitamin B12 supplement, vitamin B6 (pyridoxine hydrochloride), vitamin B7 (biotin), vitamin B9 (folic acid), ethylenediamine dihydriodide, vitamin D supplement
Fiber (estimated dry matter content) = 4.5%
Red denotes controversial item
Estimated Nutrient Content
Method
Protein
Fat
Carbs
Guaranteed Analysis
10%
6%
NA
Dry Matter Basis
46%
25%
22%
Calorie Weighted Basis
36%
48%
17%
Protein =
36
% | Fat =
48
% | Carbs =
17
%
Ingredient Analysis
The first ingredient in this dog food is chicken. Chicken is considered "the clean combination of flesh and skin… derived from the parts or whole carcasses of chicken".1
Chicken is naturally rich in the ten essential amino acids required by a dog to sustain life.
The second ingredient is chicken broth. Broths are of only modest nutritional value. Yet because they add both flavor and moisture to a dog food, they are a common addition component in many canned products.
The third ingredient is chicken liver, an organ meat sourced from a named animal and thus considered a beneficial component.
The fourth ingredient includes chickpeas, also known as garbanzo beans. Like peas, beans and lentils, chickpeas are a nutritious member of the fiber-rich legume (or pulse) family of vegetables.
However, chickpeas contain about 22% protein, a factor that must be considered when judging the actual meat content of this dog food.
The fifth ingredient is agar agar, a natural vegetable gelatin derived from the cell walls of certain species of red algae. Agar is rich in fiber and is used in wet pet foods as a gelling agent.
The sixth ingredient is potassium chloride, a nutritional supplement sometimes used as a replacement for the sodium found in table salt.
The seventh ingredient is tricalcium phosphate, a beneficial source of calcium and phosphorus. In addition, this additive is used in canned foods as an emulsifier — an agent designed to disperse a food's fats more evenly in water.
The eighth ingredient is salmon oil. Salmon oil is naturally rich in the prized EPA and DHA type of omega-3 fatty acids. These two high quality fats boast the highest bio-availability to dogs and humans.
Depending on its level of freshness and purity, salmon oil should be considered a commendable addition.
From here, the list goes on to include a number of other items.
But to be realistic, ingredients located this far down the list (other than nutritional supplements) are not likely to affect the overall rating of this NutriSource product line.
With 4 notable exceptions…
First, we find taurine, an important amino acid associated with the healthy function of heart muscle. Although taurine is not typically considered essential in canines, some dogs have been shown to be deficient in this critical nutrient.
Since taurine deficiency appears to be more common in pets consuming grain-free diets, we view its presence in this recipe as a positive addition.
Next, brewers yeast can be a controversial item. Although it's a by-product of the beer making process, this ingredient is rich in minerals and other healthy nutrients.
Fans believe yeast repels fleas and supports the immune system.
Critics argue yeast ingredients can be linked to allergies. This may be true, but (like all allergies) only if your particular dog is allergic to the yeast itself.
In addition, a vocal minority insists yeast can increase the risk of developing the life-threatening condition known as bloat. However, this is a claim we've not been able to scientifically verify.
In any case, unless your dog is specifically allergic to it, yeast can still be considered a nutritious additive.
What's more noteworthy here is that brewers yeast contains about 48% protein, a factor that must be considered when judging the actual meat content of this dog food.
In addition, this food contains chelated minerals, minerals that have been chemically attached to protein. This makes them easier to absorb. Chelated minerals are usually found in better dog foods.
And lastly, we find selenium yeast in this product. Unlike the more common inorganic form of selenium (sodium selenite), this natural yeast supplement is considered a safer anti-cancer alternative.
Nutrient Analysis
Based on its ingredients alone, NutriSource Grain Free canned dog food looks like an above-average wet product.
The dashboard displays a dry matter protein reading of 46%, a fat level of 41% and estimated carbohydrates of about 6%.
As a group, the brand features an average protein content of 47% and a mean fat level of 38%. Together, these figures suggest a carbohydrate content of 7% for the overall product line.
And a fat-to-protein ratio of about 81%.
Which means this NutriSource product line contains…
Above-average protein. Above-average fat. And below-average carbs when compared to other canned dog foods.
Even when you consider the protein-boosting effect of the chickpeas and brewers yeast, this looks like the profile of a wet product containing a significant amount of meat.
However, with 66% of the total calories in our example coming from fat versus just 30% from protein, some recipes may not be suitable for pets on a low fat diet.
Our Rating of NutriSource Grain Free Dog Food
NutriSource Grain Free is a canned dog food using a significant amount of named meats as its dominant source of animal protein. Unfortunately, because of its unusually high fat-to-protein ratio, this product may not be suitable for some animals and thus earns only 4 stars.
Highly recommended.
NutriSource Dog Food Recall History
The following automated list (if present) includes all dog food recalls related to NutriSource through December 2023.
You can view a complete list of all dog food recalls since 2009 here.
Get Free Recall Alerts
Get free dog food recall alerts sent to you by email. Subscribe to The Advisor's recall notification list.
Related Topics
Readers interested in NutriSource wet dog food may also wish to check out these popular pages, too…
More NutriSource Brand Reviews
The following NutriSource dog food reviews are also posted on this website:
A Final Word
The Dog Food Advisor does not accept money, gifts, samples or other incentives in exchange for special consideration in preparing our reviews.
However, we do receive a referral fee from online retailers (like Chewy or Amazon) and from sellers of perishable pet food when readers click over to their websites from ours. This helps cover the cost of operation of our free blog. Thanks for your support.
For more information, please visit our Disclaimer and Disclosure page.
References
Association of American Feed Control Officials ↩