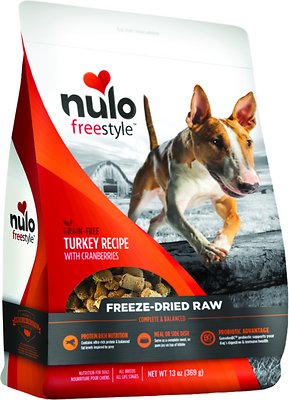 Nulo Freestyle Freeze-Dried Raw Dog Food receives the Advisor's best rating of 5 stars.
The Nulo Freestyle Freeze-Dried Raw product line includes the 5 dog foods listed below.
Each recipe includes its related AAFCO nutrient profile when available on the product's official webpage: Growth, Maintenance, All Life Stages, Supplemental or Unspecified.
Use the links to compare price and package sizes at an online retailer.
Nulo Freestyle Freeze-Dried Raw Turkey with Cranberries was selected to represent the other products in the line for this review.
Nulo Freestyle Freeze-Dried Turkey with Cranberries
Freeze-Dried Dog Food
Estimated Dry Matter Nutrient Content
Protein =
46
% | Fat =
31
% | Carbs =
15
%
Ingredients: Turkey, turkey necks, turkey heart, turkey liver, cranberries, apples, sweet potato, broccoli, carrots, kale, spinach, parsley, apple cider vinegar, ground flaxseed, dried kelp, inulin, salt, dried bacillus coagulans fermentation product, potassium chloride, salmon oil, zinc proteinate, iron proteinate, mixed tocopherols (natural preservative), vitamin E supplement, copper proteinate, manganese proteinate, vitamin D3 supplement
Fiber (estimated dry matter content) = 4.2%
Red denotes controversial item
Estimated Nutrient Content
Method
Protein
Fat
Carbs
Guaranteed Analysis
44%
29%
NA
Dry Matter Basis
46%
31%
15%
Calorie Weighted Basis
34%
55%
11%
Protein =
34
% | Fat =
55
% | Carbs =
11
%
The first ingredient in this dog food is turkey. Turkey is considered "the clean combination of flesh and skin… derived from the parts or whole carcasses of turkey".1
Turkey is naturally rich in the ten essential amino acids required by a dog to sustain life.
The next three ingredients include turkey neck, heart, and liver, all quality by-products of poultry slaughter.
Although they may not sound appetizing, organ meats like these are an excellent source of high biological value protein and natural minerals.
Additionally, turkey neck consists of muscle meat and bone and contains optimal levels of both protein and natural calcium.
The fifth ingredient lists cranberries, a nutrient-rich fruit that's also high in fiber.
The next ingredient is apple, a nutrient-rich fruit that's also high in fiber.
The seventh ingredient is sweet potato. Sweet potatoes are a gluten-free source of complex carbohydrates in dog food. They are naturally rich in dietary fiber and beta carotene.
The eighth ingredient is broccoli. Broccoli is a healthy green vegetable and a member of the kale family. It's notably rich in vitamin C and fiber and numerous other nutrients.
Like other cruciferous vegetables, broccoli is believed to provide anti-cancer benefits.
From here, the list goes on to include a number of other items.
But to be realistic, ingredients located this far down the list (other than nutritional supplements) are not likely to affect the overall rating of this product.
With 4 notable exceptions…
First, we find ground flaxseed, one of the best plant sources of healthy omega-3 fatty acids. Provided they've first been ground into a meal, flax seeds are also rich in soluble fiber.
However, flaxseed contains about 19% protein, a factor that must be considered when judging the actual meat content of this dog food.
Next, we note the inclusion of inulin, a starch-like compound made up of repeating units of carbohydrates and typically sourced from chicory root.
Not only is inulin a natural source of soluble dietary fiber, it's also a prebiotic used to promote the growth of healthy bacteria in a dog's digestive tract.
In addition, salmon oil is naturally rich in the prized EPA and DHA type of omega-3 fatty acids. These two high quality fats boast the highest bio-availability to dogs and humans.
Depending on its level of freshness and purity, salmon oil should be considered a commendable addition.
And lastly, this food contains chelated minerals, minerals that have been chemically attached to protein. This makes them easier to absorb. Chelated minerals are usually found in better dog foods.
Nulo Freestyle Freeze-Dried Raw
Dog Food Review
Based on its ingredients alone, Nulo Freestyle Freeze-Dried Raw Dog Food looks like an above-average product.
The dashboard displays a dry matter protein reading of 46%, a fat level of 31% and estimated carbohydrates of about 15%.
As a group, the brand features an average protein content of 45% and a mean fat level of 29%. Together, these figures suggest a carbohydrate content of 18% for the overall product line.
And a fat-to-protein ratio of about 65%.
Which means this Nulo product line contains…
Above-average protein. Near-average fat. And below-average carbs when compared to a typical raw dog food.
Even when you consider the protein-boosting effect of the flaxseed, this still looks like the profile of a raw product containing an abundance of meat.
Bottom line?
Nulo Freestyle Freeze-Dried Raw is a grain-free raw dog food using a generous amount of named meats as its main source of animal protein, thus earning the brand 5 stars.
Enthusiastically recommended.
---
---
Nulo Dog Food
Recall History
The following list (if present) includes all dog food recalls since 2009 directly related to this Nulo product line. If there are no recalls listed in this section, we have not yet reported any events.
A Final Word
The Dog Food Advisor is privately owned. We do not accept money, gifts, samples or other incentives in exchange for special consideration in preparing our reviews.
However, we do receive a referral fee from online retailers (like Chewy or Amazon) and from sellers of perishable pet food when readers click over to their websites from ours. This helps cover the cost of operation of our free blog. Thanks for your support.
For more information, please visit our Disclaimer and Disclosure page.
Important FDA Alert
The FDA is investigating a potential link between diet and heart disease in dogs. Click here for details.
Notes and Updates
Adapted by the Dog Food Advisor and based upon the official definition for chicken published by the Association of American Feed Control Officials, Official Publication, 2008 Edition ↩
03/01/2020 Last Update