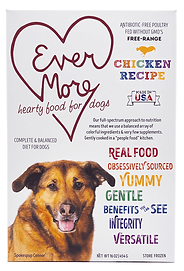 Which Evermore Recipes Get
Our Best Ratings?
Evermore Dog Food receives the Advisor's top rating of 5 stars.
The Evermore product line includes the 4 cooked-then-frozen dog foods listed below.
Each recipe includes its AAFCO nutrient profile when available… Growth (puppy), Maintenance (adult), All Life Stages, Supplemental or Unspecified.
| Product | Rating | AAFCO |
| --- | --- | --- |
| Evermore Chicken Recipe | 5 | M |
| Evermore Beef Recipe | 5 | M |
| Evermore Turkey Recipe Grain Free | 5 | M |
| Evermore Lamb Recipe Grain Free | 4.5 | M |
Recipe and Label Analysis
Evermore Chicken Recipe was selected to represent the other products in the line for detailed recipe and nutrient analysis.
Label and nutrient data below are calculated using dry matter basis.
---
Evermore Chicken Recipe
Frozen Dog Food
Estimated Dry Matter Nutrient Content
Protein =
44
% | Fat =
20
% | Carbs =
28
%
Ingredients: Chicken, chicken hearts, eggs, organic sweet potatoes, organic carrots, chicken livers, organic kale, organic apples, organic dandelion greens, organic blueberries, organic parsley, organic oats, organic barley, fish oil, organic pumpkin seeds, organic alfalfa, safflower oil, eggshell powder, organic dried kelp, zinc gluconate, copper amino acid chelate
Fiber (estimated dry matter content) = 4%
Red denotes controversial item
Estimated Nutrient Content
Method
Protein
Fat
Carbs
Guaranteed Analysis
11%
5%
NA
Dry Matter Basis
44%
20%
28%
Calorie Weighted Basis
37%
40%
23%
Protein =
37
% | Fat =
40
% | Carbs =
23
%
Ingredient Analysis
The first ingredient in this dog food is chicken. Chicken is considered "the clean combination of flesh and skin… derived from the parts or whole carcasses of chicken".1
Chicken is naturally rich in the ten essential amino acids required by a dog to sustain life.
The second ingredient is chicken heart. Although it doesn't sound very appetizing to us humans, heart tissue is pure muscle — all meat. It's naturally rich in quality protein, minerals and complex B vitamins, too.
The third ingredient includes eggs. Eggs are easy to digest and have an exceptionally high biological value.
The fourth ingredient lists sweet potato. Sweet potatoes are a gluten-free source of complex carbohydrates in dog food. They are naturally rich in dietary fiber and beta carotene.
The fifth ingredient includes carrots. Carrots are rich in beta-carotene, minerals and dietary fiber.
The sixth item is chicken liver. This is an organ meat sourced from a named animal and thus considered a beneficial component.
The seventh ingredient is kale. Kale is a type of cabbage in which the central leaves do not form a head. This dark green vegetable is especially rich in beta-carotene, vitamin C, vitamin K and calcium.
And like broccoli, kale contains sulforaphane, a natural chemical believed to possess potent anti-cancer properties.
The eighth ingredient includes apples, a nutrient-rich fruit that's also high in fiber.
From here, the list goes on to include a number of other items.
But to be realistic, ingredients located this far down the list (other than nutritional supplements) are not likely to affect the overall rating of this product.
With 3 notable exceptions…
First, we find alfalfa, a flowering member of the pea family. Although alfalfa is high in protein (18%) and fiber, it's uncommon to see it used in dog food. This hay-family ingredient is more commonly associated with horse feeds.
Next, we note the use of safflower oil. Safflower oil is nutritionally similar to sunflower oil. Since these oils are high in omega-6 fatty acids and contain no omega-3's, they're considered less nutritious than canola or flaxseed oils.
Safflower oil is notable for its resistance to heat damage during cooking.
And lastly, this food contains chelated minerals, minerals that have been chemically attached to protein. This makes them easier to absorb. Chelated minerals are usually found in better dog foods.
Nutrient Analysis
Since this recipe contains a number of organic ingredients, we feel compelled to grant this line a more favorable status as we consider its final rating.
That's because organic ingredients must comply with notably more stringent government standards — standards which significantly restrict the use of any synthetic pesticides, herbicides, insecticides, hormones or antibiotics.
Based on its ingredients alone, Evermore Dog Food looks like an above-average wet product.
The dashboard displays a dry matter protein reading of 44%, a fat level of 20% and estimated carbohydrates of about 28%.
As a group, the brand features an average protein content of 43% and a mean fat level of 24%. Together, these figures suggest a carbohydrate content of 25% for the overall product line.
And a fat-to-protein ratio of about 56%.
Above-average protein. Near-average fat. And below-average carbs when compared to a typical wet dog food.
Even when you consider the protein-boosting effect of the alfalfa, this looks like the profile of a wet product containing a generous amount of meat.
Our Rating of Evermore Dog Food
Evermore includes both grain-inclusive and grain-free fresh dog foods using an abundance of named meats as its dominant source of animal protein, thus earning the brand 5 stars.
Enthusiastically recommended.
Related Topics
Readers interested in Evermore wet dog food may also wish to check out these popular pages, too…
Evermore Dog Food Recall History
The following automated list (if present) includes all dog food recalls since 2009 related to Evermore.
No recalls noted.
You can view a complete list of all dog food recalls since 2009 here.
Get Free Recall Alerts
Get free dog food recall alerts sent to you by email. Subscribe to The Advisor's recall notification list.
A Final Word
The Dog Food Advisor is privately owned. We do not accept money, gifts, samples or other incentives in exchange for special consideration in preparing our reviews.
However, we do receive a referral fee from online retailers (like Chewy or Amazon) and from sellers of perishable pet food when readers click over to their websites from ours. This helps cover the cost of operation of our free blog. Thanks for your support.
For more information, please visit our Disclaimer and Disclosure page.
Important FDA Alert
The FDA is investigating a potential link between diet and heart disease in dogs. Click here for details.
References
Association of American Feed Control Officials ↩
03/29/2022 Last Update