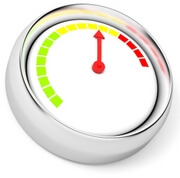 The Dog Food Advisor uses a practical method for estimating the carbohydrate content of dry foods. I use the same formulas in my books.
Yet this technique doesn't work as well for raw dog foods because some manufacturers significantly understate the fat content of their products.
I've sent many raw products to testing laboratories — and have found some egregious examples of mislabeling the fat content.
For example, one of the more popular brands lists 8% fat — as a minimum. Yet it actually contains 18% fat (as fed basis). That's because pet food regulators require fat content to be listed as a minimum — not the actual amount found in the food.
Most people feeding raw are trying to mimic the ancestral diet of dogs, which was a high protein, moderate fat, low carbohydrate diet. Yet not all raw diets properly duplicate this design.
Some raw dog foods contain much higher fat — 75% of calories from fat compared to just 44% for the ancestral diet. And these same recipes can include much lower protein content — just 25% of calories versus 50% for the ancestral diet.
To mimic an ancestral diet, the actual dry matter fat content of a raw dog food should be less than ¾ the protein content — and preferably closer to ½.
How to Estimate the Fat and Carbohydrate
Content of a Raw Dog Food
Here's an easy way to estimate the probable fat and carbohydrate content of those raw diets that include meat, bone, vegetables and a nutrient mix.
First, visit the Dog Food Advisor's review of the product and note the estimated carbohydrate content shown in the gauge at the top of the yellow dashboard.
If the carb content is notably greater than the values listed below, you should suspect significantly more fat than what's reported on the label. And you'll need to do some basic math to estimate the more likely fat content.
For a more realistic nutrient profile, simply subtract the difference between the figures in the chart below (+3%) and the carbohydrate amount listed on the carb gauge.
I suggest adding 3% because numbers are often rounded — and most manufacturers typically understate protein and overstate moisture and fiber on their labels.
For typical (meat, bone and vegetable) raw dog foods, here's an estimate of the dry matter carbohydrate content. Use the higher values if yams or sweet potatoes are included.
95% meat: 1 to 2%
90% meat: 1.5 to 4%
80% meat: 4 to 8%
70% meat: 8 to 14%
Some Typical Examples
Let's look at two raw dog foods…
With Darwin's Natural Selection (please note I'm a consultant for Darwin's and helped in the formulation of this food) the dashboard estimates carb content at 18%.
This figure overstates my projection by just 4%, close to the 14% actual carb content (as the food contains yams).
However, for Nature's Variety 95% meat product, the dashboard overestimates carbs significantly — at about 26% — compared to my estimate of 2%.
Something is being understated on the label — and it's probably the fat.
To more accurately assess the fat content, subtract my carb estimate (plus 3%) from the dashboard and add that to the fat.
For Darwin's subtract 17% (14% from the chart plus 3%) from 18%, and add the 1% difference to the fat content. For Nature's Variety, subtract 5% (2% +3%) from 26% and add the difference (21%) to the fat content.
The Arithmetic of Major Nutrients
For those who'd like more details…
Vegetables contain about 90% water and 5% carbohydrate. And meat has zero carbohydrate. So, a food that's 95% meat (as fed) is only 5% vegetable — which consists of 5% carbohydrate.
And that makes the same food about 0.25% carb — or about 1% on a dry matter basis.
So, with water completely removed, all foods consist primarily of…
Protein
Fat
Carbohydrate
Ash (minerals)
According to USDA definition, carbohydrates are calculated from the amount of protein, moisture, fat and ash. And fiber is the non-digestible component of carbohydrate.
Carbohydrates come from plant sources only. Meats contain no carbs — and no fiber.
Calorie Content
Another Important Clue
For those products that appear to be missing fat data, I suggest visiting the appropriate company's website for more information.
Then, look for the energy content of the food — expressed as kcal (kilocalories) per ounce.
For fresh diets (those containing natural amounts of water of about 67–77%), there should be 50 kcal per ounce or less.
For fresh foods, any product containing more than 45 kcal per ounce can be considered a high fat diet
In my opinion, a fresh (with moisture) food with more than 60 kcal per ounce has too much fat — and not enough protein for puppies, pregnant or lactating females.
The dog's ancestral diet contained about 35 kcal per ounce — fat has 9 kcal per gram and protein 4 kcal.
Learn More About
Raw and Fresh Feeding
For more information, see the pet food math section of my book, "Unlocking the Canine Ancestral Diet".
Or to learn more about the dog's natural ancestral diet, please visit www.SeeSpotLiveLonger.com
Steve Brown is a nationally renowned dog food formulator and author of three popular books on canine nutrition.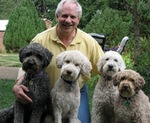 He is the creator of Charlee Bear® Dog Treats, one of the world's first training products.
Brown also founded Steve's Real Food for Pets®, the first AAFCO-compliant, frozen, raw meat-based diet. He later left the company to focus on research and education.
In 2004, he co-authored a book on canine nutrition, See Spot Live Longer — now in its seventh printing,
Brown has published numerous articles on canine feeding in pet related magazines, veterinary journals and leading natural health web sites.
In 2006, Steve began to suspect the major weakness of most dog foods was in their fat content. So, after three years of research, Brown wrote Unlocking the Canine Ancestral Diet.
He also offers an e-book, See Spot Live Longer the ABC Way.
Brown is currently a consultant to and food formulator for several well-known pet food companies.