January 15, 2016 — Carnivore Meat Company of Green Bay, Wisconsin, has announced it is voluntarily recalling a single lot of Vital Essentials Frozen Chicken Patties Entrée for Dogs due to possible contamination with Salmonella bacteria.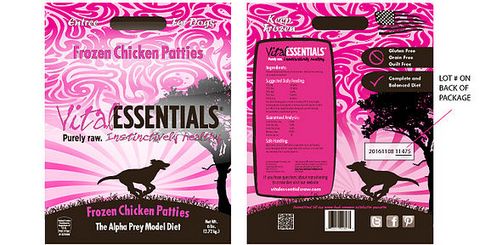 What's Being Recalled?
The single lot involved in this voluntary recall is:
Vital Essentials Frozen Chicken Patties Entrée for Dogs
Net weight 6 pounds
UPC 33211 00807
Lot # 11475
Best by date 20161108 (11/08/16)
The "Best By" date code and lot # is located on the back of the package.
Where Was It Distributed?
The affected product was distributed in the following states:
California
Florida
Georgia
Rhode Island
Texas
Washington
Why Was It Recalled?
The Federal Food and Drug Administration (FDA) selected and tested product as part of a national collection initiative, which was issued by the Center of Veterinary Medicine (CVM) on June 3, 2015.
The Agency notified Carnivore Meat Company that one of the samples collected, tested positive for Salmonella, bacteria commonly associated with fresh and frozen poultry, in human and in pet products.
There have been no customer complaints reported.
No other product manufactured by Carnivore is involved in this recall.
About Salmonella
Salmonella can cause serious illness or fatal infection in young children, frail or elderly people, and others with weakened immune systems.
Although healthy individuals may suffer only short term symptoms such as high fever, severe headache, stiffness, nausea, abdominal cramping and diarrhea.
Consumers exhibiting these signs after having contact with this product should contact their healthcare providers.
What to Do?
If you are a consumer and have purchased a bag of the affected product, please call the the company at 920-370-6542 Monday-Friday, 9 AM to 4 PM CST.
The company will assist you in obtaining replacement or a full refund from your local retailer for your original purchase.
If your package has been opened, the company suggests that you dispose of the raw food in a safe manner. This can be accomplished by securing it in a covered trash receptacle.
U.S. citizens can report complaints about FDA-regulated pet food products by calling the consumer complaint coordinator in your area.
Or go to http://www.fda.gov/petfoodcomplaints.
Canadians can report any health or safety incidents related to the use of this product by filling out the Consumer Product Incident Report Form.
Get Dog Food Recall Alerts by Email
Get free dog food recall alerts sent to you by email. Subscribe to The Dog Food Advisor's recall notification list.