November 20, 2013 — Health Canada has announced Your True Companion Pet Products is recalling its True Raw Choice Bulk Dehydrated Natural Pet Treats due to possible contamination with Salmonella bacteria.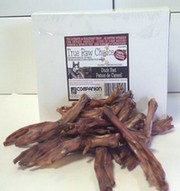 Recalled products include:
Duck Feet (Lot 228870)
Duck Wings (Lot 213825)
Chicken Feet (Lot 214733)
Lamb Trachea (Lot 225215)
Chicken Breast (Lot 154339)
A total of 280 total cases of the affected treats were sold in bulk at various pet food stores across Canada.
Editor's Note: Even though the recalled products may have been purchased in Canada, they may also have been carried home to pets in the United States. So, be sure to check your own records for purchase information.
About Salmonella
Pets such as dogs and cats (and their food) can carry Salmonella bacteria. People can get infected with the bacteria from handling pets, pet food or feces.
Symptoms of salmonellosis often include:
Sudden onset of fever
Stomach cramps
Headache
Diarrhea
Vomiting
What to Do?
Consumers should contact Your True Companion Pet Products at 855-260-5024 if unsure if the product you have is affected or not.
As of November 8, 2013, all affected products have been disposed of in the market place.
Canadians can report any health or safety incidents related to the use of this product by filling out the Consumer Product Incident Report Form.
U.S. citizens can report complaints about FDA-regulated pet food products by calling the consumer complaint coordinator in your area.
Or go to http://www.fda.gov/petfoodcomplaints.
Get Critical Dog Food Recall Alerts
Delivered to You by Email
Get dog food recall alerts delivered right to your Inbox the moment we become aware of them. Subscribe to The Dog Food Advisor's Dog Food Recall Alert email notification list now. There is no cost for this service.