Keys Manufacturing Company of Paris, Illinois is recalling pig ears due to the possibility of contamination with Salmonella bacteria.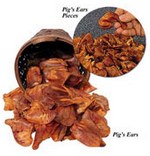 According to the Associated Press:
WASHINGTON (AP) — An Illinois company is recalling pet chews made of pig's ears because they could be contaminated with salmonella.

One illness, to a dog in Missouri, has been linked to the chews, called Pig Ears for Pet Treats. The product is being recalled by the Keys Manufacturing Co. Inc. of Paris, Ill.

Salmonella can affect animals, and there is risk to people from handling contaminated pet products.

The bacteria can cause serious and sometimes fatal infections in young children, elderly people and those with weakened immune systems. Symptoms include fever, diarrhea, nausea, vomiting and abdominal pain. Pets with salmonella may be lethargic and have diarrhea or bloody diarrhea fever and vomiting.

The pet treats were distributed in Arkansas, Florida, Illinois, Indiana, Iowa, Kentucky, Louisiana, Michigan, Minnesota, Missouri, Ohio, Pennsylvania, Texas and Virginia.

Consumers can return the pet treats to the place of purchase for a full refund.
Complete details regarding this recall are available within the official FDA News Release dated May 3, 2011.
The actual press release from Keys Manufacturing was distributed May 3, 2011 included the following warning:
Salmonella can affect animals and there is risk to humans from handling contaminated pet products.

People handling dry pet food and/or treats can become infected with Salmonella, especially if they have not thoroughly washed their hands after having contact with the chews or any surfaces exposed to these products. Healthy people infected with Salmonella should monitor themselves for some or all of the following symptoms: nausea, vomiting, diarrhea or bloody diarrhea, abdominal cramping and fever. Rarely, Salmonella can result in more serious ailments, including arterial infections, endocarditis, arthritis, muscle pain, eye irritation, and urinary tract symptoms. Consumers exhibiting these signs after having contact with this product should contact their healthcare providers.

Pets with Salmonella infections may be lethargic and have diarrhea or bloody diarrhea, fever, and vomiting. Some pets will have only decreased appetite, fever and abdominal pain. Infected but otherwise healthy pets can be carriers and infect other animals or humans. If your pet has consumed the recalled product and has these symptoms, please contact your veterinarian.
The company is taking questions at 217-465-4001.