April 6, 2012 — Diamond Pet Foods announced a voluntary recall of its Diamond Naturals Lamb Meal and Rice dry dog food due to possible contamination with Salmonella bacteria.

The recall event was also confirmed in an FDA news release last updated and posted on April 10, 2012.
So far, no illnesses have been reported and no other Diamond-manufactured products appear to be affected.
The product was distributed to customers located in Alabama, Florida, Georgia, Kentucky, Maryland, Michigan, New York, North Carolina, Ohio, Pennsylvania, South Carolina and Virginia.
The company goes on to warn:
Individuals handling dry pet food can become infected with salmonella, especially if they have not thoroughly washed their hands after having contact with surfaces exposed to this product. Healthy people infected with salmonella should monitor themselves for some or all of the following symptoms: nausea, vomiting, diarrhea or bloody diarrhea, abdominal cramping and fever. Rarely, salmonella can result in more serious ailments including arterial infections, endocarditis, arthritis, muscle pain, eye irritation and urinary tract symptoms. Consumers exhibiting these signs after having contact with this product should contact their healthcare providers.

Pets with salmonella infections may have decreased appetite, fever and abdominal pain. If left untreated, pets may be lethargic and have diarrhea or bloody diarrhea, fever and vomiting. Infected but otherwise healthy pets can be carriers and infect other animals or humans. If your pet has consumed the recalled product and has these symptoms, please contact your veterinarian.
What Products Are Affected?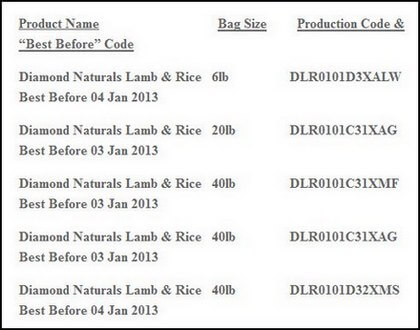 What to Do
You can report complaints about FDA-regulated pet food products by calling the consumer complaint coordinator in your area.
Or go to http://www.fda.gov/petfoodcomplaints.
For more information about this recall, consumers should contact Diamond Pet Foods at 800-442-0402.
Get Dog Food Recall Alerts by Email
Get dog food recall alerts delivered right to your Inbox the moment we become aware of them. Subscribe to The Dog Food Advisor's Dog Food Recall Alert email notification list now.