July 23, 2015 — Bravo Pet Foods of Manchester, Connecticut, is recalling select lots of Bravo Chicken pet foods for dogs and cats due to concerns of the possible presence of Salmonella.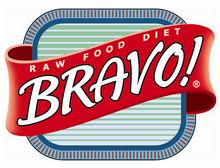 The recall was initiated after routine testing by the New York State Department of Agriculture revealed the presence of Salmonella contamination.
Bravo has received no reports of illness to date in either humans or animals associated with these products.
What's Being Recalled?
The following product is being voluntarily recalled because of the possible presence of Salmonella.

The following items did not test positive for Salmonella. However, they are also being voluntarily recalled out of an abundance of caution.
That's because these items were manufactured in the same manufacturing facility on the same day as the product that tested positive.
These products were sold to distributors, retail stores, Internet retailers and directly to consumers in the U.S.
All products had tested negative by a third party independent laboratory prior to release for distribution to consumers.
No additional products are affected by this recall.
About Salmonella
Salmonella can cause serious illness or fatal infection in young children, frail or elderly people, and others with weakened immune systems.
Although healthy individuals may suffer only short term symptoms such as high fever, severe headache, stiffness, nausea, abdominal cramping and diarrhea.
Consumers exhibiting these signs after having contact with this product should contact their healthcare providers.
Always use proper caution when handling raw foods.
What to Do?
The recalled product should not be sold or fed to pets.
Pet owners who have the affected product at home should dispose of this product in a safe manner — for example, a securely covered trash receptacle.
To get a refund, customers are advised to return to the store where they bought the product.
They should then submit the Bravo Recall Claim Form available on the Bravo website for a full refund or store credit.
See the Bravo Product Claim Form on the company website for details. More information on the Bravo recall can also be found at www.bravopetfoods.com
Or call 866-922-9222, Monday through Friday, 9 am to 4 pm ET.
U.S. citizens can report complaints about FDA-regulated pet food products by calling the consumer complaint coordinator in your area.
Or go to http://www.fda.gov/petfoodcomplaints.
Canadians can report any health or safety incidents related to the use of this product by filling out the Consumer Product Incident Report Form.
Get Critical Dog Food Recall Alerts
Delivered to You by Email
Get free dog food recall alerts sent to you by email. Subscribe to The Dog Food Advisor's recall notification list.