May 4, 2012 –Apex Pet Foods of South Carolina has announced it is issuing a voluntary recall of all dry dog food formulas manufactured on January 24, 2012.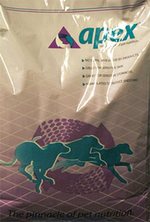 According to the company, no animal or human illnesses related to Apex Dog Food have been reported. And none of the products have tested positive for Salmonella.
The company claims it is conducting this recall "out of caution to ensure the health and safety of consumers and their pets".
The following products are being recalled:

This product was only distributed in South Carolina.
The recall has now been confirmed in a news release posted by the Food and Drug Administration on 5/4/2012.
What to Do?
Salmonella is serious business – for both you and your pet. So, if you can confirm your dog's food is one of the products being recalled, stop feeding or handling it immediately.
If you've discarded the packaging (something we recommend you never do) – or you're in any way in doubt – do not take chances. Be safe. Stop feeding or handling the product anyway.
Apex suggests:
Pet owners who are unsure if the product they purchased is included in the recall, or who would like replacement product or a refund, may contact Apex Pet Foods via a toll free call at (866) 918-8756, Monday through Sunday, 8 am – 6pm EST.
Diamond Pet Foods, the maker of Apex, maintains a special web page containing all Apex products currently under recall — along with all relevant best by dates.
You can report complaints about FDA-regulated pet food products by calling the consumer complaint coordinator in your area.
Or go to http://www.fda.gov/petfoodcomplaints.
Get Dog Food Recall Alerts by Email
Get dog food recall alerts delivered right to your Inbox the moment we become aware of them. Subscribe to The Dog Food Advisor's Dog Food Recall Alert email notification list now.