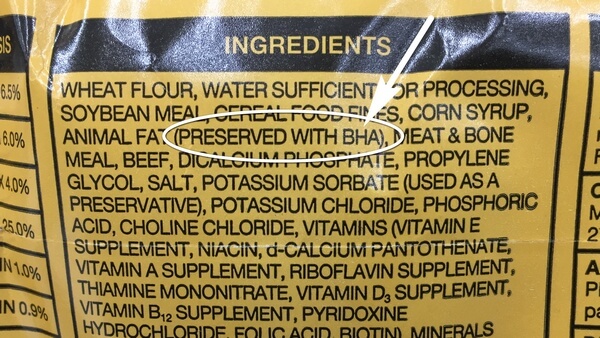 Risky Dog Food Ingredient
BHA1 is a controversial chemical preservative found in many popular dog foods.
However…
Some consider this ingredient too risky for use in pet food.
That's because…
Multiple studies have linked BHA to cancer and reproductive disorders.2 3 4
While government5 regulations still allow the use of this controversial chemical in pet food… because it's considered safe in low doses.6
Causes Cancer in Lab Animals
The National Toxicology Program7 warns that BHA should be "reasonably anticipated" to be a cancer-causing chemical in humans.8
In other studies…
BHA has also been found to produce malignant tumors in laboratory animals.9
In addition…
The State of California includes BHA on its "Chemicals Known… to Cause Cancer or Reproductive Toxicity" report. 10
Banned in Other Countries
The European Union considers BHA a 'hormone disruptor'… because studies have shown the chemical can damage the sperm quality of male rats and the sex organs of females.11
Which is an important reason why BHA has been banned from use in certain food products within the European Union.12
Why Dogs Are at Greater Risk
Unlike humans, who VARY their diets with each meal, dogs are typically fed the same food continuously.
Day after day. For a lifetime.
And it's that cumulative exposure to a risky chemical (like BHA) that tends to magnify its effect on an animal's body.
And what worries us.
Safer Alternatives to BHA
The main advantage of using artificial chemical preservatives (like BHA) is that they extend the shelf life of a dog food longer than natural preservatives.
Which can make a product containing BHA much more profitable for the pet food company.
While making these foods far more dangerous for our dogs.
In contrast…
Many pet foods are preserved with antioxidants… super-safe natural preservatives like…
Ascorbic acid (vitamin C)
Mixed tocopherols (vitamin E)
A fact which invites the question…
Why Take the Risk?
Look. Here's the point.
Considering all the dangerous health issues linked to BHA…
Why take the risk?
It seems only logical to avoid dog foods that contain BHA… in the first place.
After all…
There are super-safe natural preservatives already available in hundreds of quality dog foods… from which to choose.
Our Best Advice
For any dog food you're considering for purchase…
Search the label for the "fat" ingredient, followed by the words "preserved with BHA". Avoid these. They look like this:

Or…
Simply visit any of The Advisor's "Best Dog Foods" pages below. All the products listed here are rated 4 stars or higher… which means they contain no BHA.
Or…
Visit our Dog Food Reviews by Brand page to find out if your dog's current food contains BHA.
---
Our Editor's Top Picks
January 2023
All the dog foods included on the pages below contain no BHA.
---
References