Some foods that are edible for humans can pose serious health risks for dogs. Although many of these foods cause only minor digestive issues, others can lead to severe illness — even death.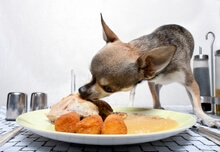 Here's a list of some of the more common or controversial people foods dogs should probably not eat — or limit in quantity.
Avocado
Alcoholic beverages
Bones (cooked)
Chocolate
Coffee
Currants
Fatty trimmings
Fruit pits
Grapes
Macadamia Nuts
Marijuana
Mushrooms
Onions
Raisins
Tea
Tobacco
Yeast dough
Did We Forget Something?
In the comments section below, please let us know if you're aware of any toxic human foods that should be included on this list.
Get Dog Food Recall Alerts by Email
Get dog food recall alerts delivered right to your Inbox the moment we become aware of them. Subscribe to The Dog Food Advisor's Dog Food Recall Alert email notification list now.