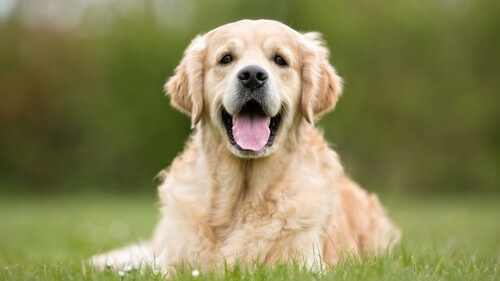 Based on your quiz results… your dog's ideal feeding type is Type 4.
Which means…
You need a food that provides complete and balanced nutrition for an older or senior dog.
No surprise there. You already know that.
But…
What you may not know is that…
There are no official industry guidelines established for feeding senior dogs.
However…
There are certain features that can make some foods better for older pets than others.
What's the best food for an older dog?
As a rule…
Any dog food that meets AAFCO guidelines for Adult Maintenance or All Life Stages is suitable for feeding an older dog.
Yet older dogs can benefit from more protein in the diet than a younger dog. That's because (like humans), seniors need to replace wasting muscle mass as they age.
What's more…
Dogs are prone to obesity as they age. According to the National Research Council of the National Academy of Science…1
"Because of decreased physical activity and slowed metabolism, older dogs need 20% fewer total calories than do middle-aged adult dogs."
So, a low-calorie weight loss food can help your dog lose or maintain a healthy body condition score without feeling hungry all the time.
In addition…
Senior dogs can suffer from chronic dental problems, too. So, for those animals, a soft wet or fresh-made diet can be a preferred option.
Keep in mind…
The word "senior" doesn't have to be found in the name for a food to be considered an excellent choice for an older dog.
What if you don't know your dog's feeding type?
If you don't know your dog's feeding type, be sure to take our Feeding Type Quiz.
---
Best Food for Senior Dogs
The pages below include some of The Advisor's most recommended brands for senior dogs. Look for recipes rated 4 to 5 stars that meet AAFCO nutrient profiles for Adult Maintenance or All Life Stages.
---
Frequently Asked Questions
Here are the most frequently asked questions we get about feeding older dogs:
---
When is a dog considered a senior?
Not all dogs get grey hair around their muzzles. In fact, many are as playful as a puppy for their entire lives.
In fact…
You may have noticed that small dogs seem to age more slowly than large dogs. It's true. A small dog can live to be as old as 20 years. But a large dog can reach maturity much sooner.
So, how do you know when your dog has entered her golden years?
According to the American Veterinary Medical Association…2
"…small dogs are generally considered senior at 7 years of age. Larger breed dogs tend to have shorter life spans… and are often considered senior when they are 5 to 6 years of age."
Of course, all dogs are different. The following table provides only an estimate for when a dog begins to reach senior status.
| Breed Size | Adult Weight | Senior |
| --- | --- | --- |
| Small breed | < 20 lbs | 10 yrs |
| Med breed | 20 – 50 lbs | 9 yrs |
| Large breed | 50 – 100 lbs | 8 yrs |
| Giant breed | Over 100 lbs | 7 yrs |
---
How to switch to a senior food without making your older dog sick?
In this video…
Dr. Gary Richter shares a simple feeding tip that can help lower your dog's risk of getting sick when you switch to a senior diet.
It's best to transition your dog to a senior food… gradually.
Start by mixing 20% "senior" and 80% "old" food together. Then, gently increase that amount to a full 100%… over the next 8 to 9 days.
| Transition Schedule | Old Food | Senior Food |
| --- | --- | --- |
| Days 1 and 2 | 80% | 20% |
| Days 3 and 4 | 60% | 40% |
| Days 5 and 6 | 40% | 60% |
| Days 7 and 8 | 20% | 80% |
| Day 9 | 0% | 100% |
---
What if I don't know my dog's breed size?
Many times, a dog's breed size or age may not be known. And breeds can be mixed. Which can be a big problem for a growing large breed puppy.
So, when in doubt, it's far safer to assume you're feeding a large breed puppy.
---
Should all older dogs be eating senior dog food?
No. In most cases, that's not necessary. In fact, if your older dog is healthy and eating a quality, balanced diet, there's no reason to switch to a senior dog food.
Just be sure the food you're feeding contains an above-average amount of meat-based protein and moderate calories… and it meets AAFCO guidelines for Adult Maintenance or All Life Stages.
---
Wet or dry food — which is better for your senior dog?
Wet food can be a gentler way to feed ease your older dog.
That's because…
Wet foods are softer and easier for an older dog to chew than dry food.
And they're tastier, too.
After all, dry kibble contains just 10% water. Yet the moisture content of wet dog food is about 75%… similar to real natural food.
Notice the difference between highly-processed dry pellets and fresh wet food in this side-by-side comparison.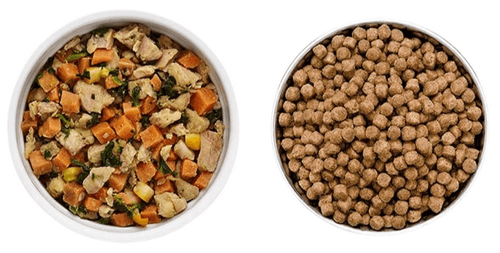 View The Advisor's Best Wet Dog Foods here.
View The Advisor's Best Fresh-Made Dog Foods here.
---
A Final Word
The Dog Food Advisor is privately owned. We do not accept money, gifts, samples or other incentives in exchange for special consideration in preparing our reviews.
However, we do receive a referral fee from online retailers (like Chewy or Amazon) and from sellers of perishable pet food when readers click over to their websites from ours. This helps cover the cost of operation of our free blog. Thanks for your support.
For more information, please visit our Disclaimer and Disclosure page.
Important FDA Alert
The FDA is investigating a potential link between diet and heart disease in dogs. Click here for details.
References