October 13, 2012 — Nature's Recipe has announced a voluntary recall involving one of its dog treats products due to possible contamination with Salmonella bacteria.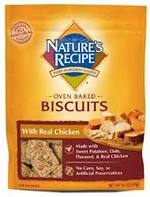 The event was reported by the FDA in a news release dated October 13, 2012.
The recall includes Nature's Recipe Oven Baked Biscuits with Real Chicken made at one of the company's US production facilities.
Salmonella can affect both humans and non-human animals and are the result of ingesting contaminated food.
What Products Are Being Recalled?
Nature's Recipe Oven Baked Biscuits with Real Chicken is sold in 19-ounce resealable pouches. The affected products include lot codes 2199TP and 2200TP with a "Best If Used By" date of either October 11, 2013 or October 12, 2013.
Product and product lots that do not appear on the list above are not subject to this recall.
Where Were the Recalled Products Sold?
The potentially affected lots of Nature's Recipe Oven Baked Biscuits with Real Chicken were distributed nationally, primarily through pet specialty retailers.
What to Do?
Salmonella is serious business — for both you and your pet. So, if you can confirm your package of treats is one of the products being recalled, stop feeding or handling it immediately.
If you've already discarded the packaging – or you're in any way in doubt – do not take chances. Be safe. Stop feeding the product anyway.
In its bulletin, the company suggests:
Consumers who have purchased the above lots of Nature's Recipe Oven Baked Biscuits with Real Chicken should stop feeding the product and discard immediately.
For further information about the recall and for instructions on obtaining replacement product, consumers can use the Contact Us form at www.naturesrecipe.com or call the Consumer Hotline, 24 hours a day, at 800-237-3856.
You can report complaints about FDA-regulated pet food products by calling the consumer complaint coordinator in your area.
Or go to http://www.fda.gov/petfoodcomplaints.
Get Dog Food Recall Alerts by Email
Get dog food recall alerts delivered right to your Inbox the moment we become aware of them. Subscribe to The Dog Food Advisor's Dog Food Recall Alert email notification list now.