April 19, 2013 – Natura Pet Products has announced it is voluntarily expanding its March 29, 2013 recall of dry pet foods because they may be contaminated with Salmonella.
The expanded recall now includes all dry pet food products and treats with expiration dates prior to and including March 24, 2014.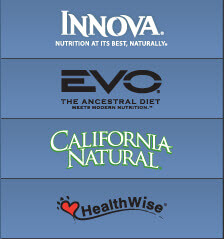 Products affected by the recall include:
Innova

EVO

California Natural

HealthWise

Karma
Only the following treat products are included in this event:
Innova Cat Treats
Wild Cravings Turkey & Chicken Formula Cat Treats
Wild Cravings Herring & Salmon Formula Cat Treats
Wild Cravings Weight Management Cat Treats
No other Natura Pet canned wet food, biscuits, bars or treats are included.
About Salmonella
Salmonella can affect animals eating the products and there is risk to humans from handling contaminated pet products, especially if they have not thoroughly washed their hands after having contact with the products or any surfaces exposed to these products.
Healthy people infected with Salmonella should monitor themselves for some or all of the following symptoms: nausea, vomiting, diarrhea or bloody diarrhea, abdominal cramping and fever.
Rarely, Salmonella can result in more serious ailments, including arterial infections, endocarditis, arthritis, muscle pain, eye irritation, and urinary tract symptoms.
Consumers exhibiting these signs after having contact with this product should contact their healthcare providers.
Pets with Salmonella infections may be lethargic and have diarrhea or bloody diarrhea, fever, and vomiting. Some pets will have only decreased appetite, fever and abdominal pain.
Infected but otherwise healthy pets can be carriers and infect other animals or humans. If your pet has consumed the recalled product and has these symptoms, please contact your veterinarian.
Sampling conducted by the Michigan Department of Agriculture and the Georgia Department of Agriculture confirmed the presence of Salmonella in additional dry pet food and a cat pet treat.
Where Were the Products Sold?
The affected products are sold through veterinary clinics and select pet specialty retailers nationwide and in Canada. They were also sold in Hong Kong, Korea, Japan, Malaysia, Singapore, Australia, and Costa Rica as well as online.
What to Do?
Consumers who have purchased these foods should discard them.
For more information, consumers may visit www.naturapet.com.
For a product replacement or refund call Natura at 800-224-6123 Monday through Friday, 8:00 AM to 5:30 PM CST.
You can report complaints about FDA-regulated pet food products by calling the consumer complaint coordinator in your area.
Or go to http://www.fda.gov/petfoodcomplaints.
Get Critical Dog Food Recall Alerts
Delivered to You by Email
Get dog food recall alerts delivered right to your Inbox the moment we become aware of them. Subscribe to The Dog Food Advisor's Dog Food Recall Alert email notification list now.