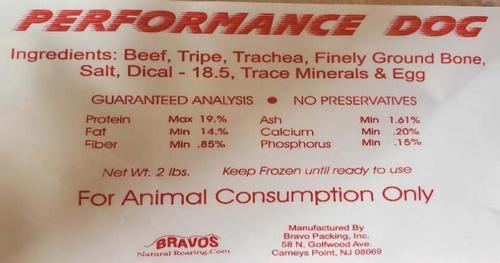 March 28, 2022 — Bravo Packing of Carney's Point, N.J., has been ordered by the U.S. Food and Drug Administration to stop selling, manufacturing and distributing pet food due to (among other violations) "grossly insanitary conditions".
A Federal judge has "entered a consent decree against" Bravo Packing due to violations of the Federal Food, Drug and Cosmetic Act (FD&C Act).
Editor's Note
Our use of the word "insanitary" was intentional and not a typo. It is a direct quote taken from the FDA's announcement. The FDA uses the word as it is spelled in accordance with an official regulation.
Bravo Packing is not the same company as Bravo Pet Foods. Bravo Pet Foods is located in Manchester, CT and has no relationship with Bravo Packing.
Previous Bravo Packing Recalls
Reported by The Dog Food Advisor
Dog Food Advisor has previously alerted readers about 4 recall events involving Bravo Packing:
Historic Legal Action
This legal ruling marks the first permanent injunction against an animal food manufacturer for violating modern public safety standards in history.
What Caused This Action?
According to Dr. Steven Solomon, director of FDA's Center for Veterinary Medicine:
"The FDA has taken this action to protect public health because, despite multiple inspections, notifications of violations, and recalls, this firm continued to operate under insanitary conditions and produce pet food contaminated with harmful bacteria. We will not tolerate firms that put people or animals at risk and will take enforcement actions when needed."
FDA Warnings and Inspections
The FDA conducted inspections in 2019 and 2021 and issued a warning letter to the facility in 2020.
During these inspections, the FDA found evidence of significant food safety violations including grossly insanitary conditions and the failure to follow good manufacturing practices regulations for animal food.
Multiple samples of finished raw pet food products collected during the inspections tested positive for Salmonella.
Pet food that is contaminated with Salmonella can lead to illness in both the pets consuming the food, as well as humans, who handle the food and care for the pets.
Some of these finished samples as well as environmental samples from the two inspections also tested positive for Listeria monocytogenes."
What to Do?
Consumers who think they or their pets may have been sickened by these products should seek the assistance of a health care professional.
And contact the FDA to report problems with this or any FDA-regulated product.
Reporting Pet Food Problems
U.S. citizens can report complaints about FDA-regulated pet food products by calling the consumer complaint coordinator in your area.
Or go to the FDA's "Report a Pet Food Complaint" page.
Canadians can report any health or safety incidents related to the use of this product by filling out the Consumer Product Incident Report Form.
Get Lifesaving Recall Alerts
Get free dog food recall alerts sent to you by email. Subscribe to The Dog Food Advisor's emergency recall warning system.
There's no cost. No spam ever. Cancel any time.
---
---