March 18, 2013 – Natura Pet Products has announced it is recalling four of its most popular brands of dry dog, cat and ferret foods due to possible contamination with Salmonella bacteria.
Specific lots of the following brands have been recalled: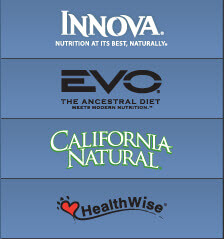 EVO
Innova
California Natural
HealthWise
No Karma, Mother Nature, wet or treat products are included in this recall.
No illnesses have been reported from the recalled products and no other P&G Pet Care brands are involved.
The recall has been confirmed by the FDA in a news release dated March 18, 2013.
What's Being Recalled?
Please visit this table of recalled products for a complete list with details for all the products being recalled.
What to Do?
If you have a product included on this list, you may contact the company at at 800-224-6123.
You can report complaints about FDA-regulated pet food products by calling the consumer complaint coordinator in your area.
Or go to http://www.fda.gov/petfoodcomplaints.
Get Critical Dog Food Recall Alerts
Delivered to You by Email
Get dog food recall alerts delivered right to your Inbox the moment we become aware of them. Subscribe to The Dog Food Advisor's Dog Food Recall Alert email notification list now.