September 23, 2015 — The U.S. Food and Drug Administration has announced the recall of Dingo Chip Twists "Chicken in the Middle" dog treats because it has the potential to be contaminated with amantadine.
Amantadine is an antiviral human drug that's not approved for use in animal food.
The FDA has labeled this event a Class III recall. So, whether or not to issue a press release is left to the discretion of the company.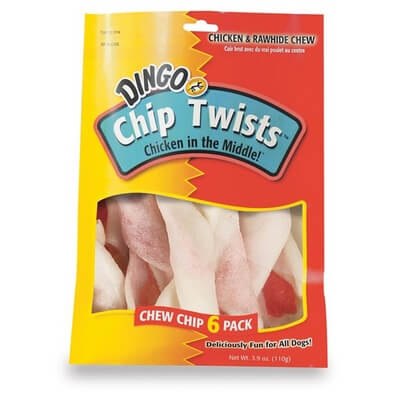 The above image was copied in good faith from the company website.
However, because we've been unable to reach the company by phone, we cannot verify the photo is an accurate representation of the affected product.
What's Being Recalled?
The affected product is called Dingo chip Twists "Chicken in the Middle" Dog Chew Treats and appears to include 2 different package sizes.
6-pack Best by Date 5/16/2017
16-pack: Best by Date 12/27/2015 and 5/16/2017
The responsible name on the label is United Pet Group, Inc. Cincinnati, OH.
The recalled product was made in China.
Where Was It Distributed?
The recalled product was distributed in the following states:
California
Iowa
Illinois
Minnesota
New York
Ohio
Oklahoma
Pennsylvania
Texas
Virginia
Washington
Wisconsin
What to Do?
U.S. citizens can report complaints about FDA-regulated pet food products by calling the consumer complaint coordinator in your area.
Or go to http://www.fda.gov/petfoodcomplaints.
Canadians can report any health or safety incidents related to the use of this product by filling out the Consumer Product Incident Report Form.
Get Dog Food Recall Alerts by Email
Get free dog food recall alerts sent to you by email. Subscribe to The Dog Food Advisor's recall notification list.