February 12, 2018 — Darwin's Natural Pet Products of Tukwila, Washington, has notified its customers that it is recalling select lots of its Darwin's ZooLogics dog food due to possible contamination with Salmonella bacteria.
Note: No product photos of the affected products were supplied by Darwin's.
The following image was downloaded from the company's website and may not be an accurate representation of the actual recalled products.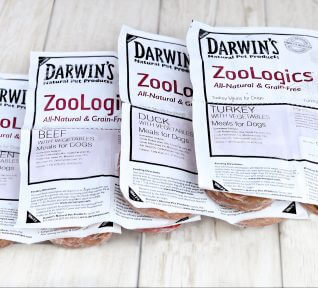 What's Recalled?
The following products are affected by this recall:
ZooLogics Chicken and Vegetable Meals for Dogs
Manufactured 11/2/17
ZooLogics Duck and Vegetable Meals for Dogs
Manufactured 11/16/17
No further information relative to the actual identity of the affected products has been made available to The Advisor.
Message from the Company
The following message was taken from a letter sent to Darwin's customers by company founder, Gary Tashjian.
"We believe most of this product has already been consumed, for the most part without incident, as most dogs' and cats' digestive systems are able to process pathogens such as Salmonella without harm.

"We are aware of a single case of a pet being affected, which involved a dog who was already ill with other conditions."
What to Do?
U.S. citizens can report complaints about FDA-regulated pet food products by calling the consumer complaint coordinator in your area.
Or go to http://www.fda.gov/petfoodcomplaints.
Canadians can report any health or safety incidents related to the use of this product by filling out the Consumer Product Incident Report Form.
Get Dog Food Recall Alerts by Email
Get free dog food recall alerts sent to you by email. Subscribe to The Dog Food Advisor's emergency recall notification system.