Reports of serious illness in dogs associated with the consumption of Chinese-made chicken jerky treats continue to be filed by pet owners.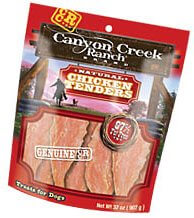 Yet the exact cause of these illnesses still remains a mystery.
After extensive laboratory testing, FDA officials have been unable to uncover a specific contaminant.
So, to date, there have been no official product recalls.
However, according to a recent article posted by msn.com, FDA documents obtained by the publisher suggest a possible link to three popular chicken jerky products and their big name producers:
Waggin' Train Jerky Treats or Tenders (Nestle Purina)
Canyon Creek Ranch Jerky Treats or Tenders (Nestle Purina)
Milo's Kitchen Home-Style Dog Treats (Del Monte Corp)
However, the FDA stated in its latest official bulletin:
"No specific products have been recalled because a definitive cause has not been determined"
Get Dog Food Recall Alerts by Email
Get dog food recall alerts delivered right to your Inbox the moment we become aware of them. Subscribe to The Dog Food Advisor's Dog Food Recall Alert email notification list now.