On May 4, 2012, Canidae announced a voluntary recall of four of its dry dog food products after being notified by Diamond Pet Foods regarding the presence of Salmonella at its facility in Gaston, South Carolina facility.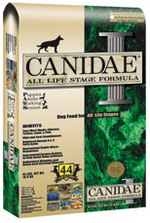 The recalled Canidae products include:
Canidae Platinum Dry Dog Food
Canidae All Life Stages Dry Dog Food
Canidae Lamb Meal & Rice Dry Dog Food
Canidae Chicken Meal & Rice Dry Dog Food
No canned products, cat food products or treats are being recalled.
How to Know If You Have a Recalled Product
Only Canidae dry dog food formulas showing production codes with both a number "3" in the 9th digit and an "X" in the 10th or 11th digit – and a best before dates of December 9, 2012, through January 31, 2013 – are being recalled.
The following diagram shows how to read the production code and best before date:

The recall affects only products distributed in the following Eastern U.S. states:
Florida
Massachusetts
New York
North Carolina
Pennsylvania
South Carolina
Tennessee
Consumers should be aware that further distribution through other pet food channels may have occurred.
The recall has now been confirmed in a news release posted by the Food and Drug Administration and updated on 5/7/2012.
What to Do?
Salmonella is serious business – for both you and your pet. So, if you can confirm your dog's food is one of the products being recalled, stop feeding or handling it immediately.
If you've discarded the packaging (something we recommend you never do) – or you're in any way in doubt – do not take chances. Be safe. Stop feeding or handling the product anyway.
According to Canidae:
Pet owners who are unsure if the product they purchased is included in the recall, or who would like a replacement product or a refund, may contact Canidae Pet Foods via a toll free call at (800) 398-1600, Monday through Friday, 9 am – 5 pm PST.
The company has posted a special web page containing all Canidae brand products currently under recall — along with all relevant package information.
You can report complaints about FDA-regulated pet food products by calling the consumer complaint coordinator in your area.
Or go to http://www.fda.gov/petfoodcomplaints.
Get Dog Food Recall Alerts by Email
Get dog food recall alerts delivered right to your Inbox the moment we become aware of them. Subscribe to The Dog Food Advisor's Dog Food Recall Alert email notification list now.