October 8, 2010. The Blue Buffalo Company of Wilton, Connecticut has announced a dog food recall of certain batches of some of its popular products due to potentially toxic levels of vitamin D.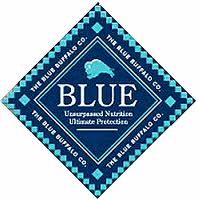 The FDA bulletin announcing this dog food recall was posted on the agency's website Friday.
In a letter posted by the company on October 8, 2010, Blue Buffalo CEO, Bill Bishop writes…
"…we are voluntarily recalling specific production runs of our Wilderness Chicken-Dog, Basics Salmon-Dog and Large Breed Adult Dog products, as we have reason to believe that the products from these runs may contain a higher level of Vitamin D than is called for in our product specifications."
The announcement goes on to explain…
"While the potential of increased Vitamin D presents no serious health risk, and any negative reaction to these products has been confined to a very small segment of the canine population who appear to be sensitive to higher levels of Vitamin D, we have a zero tolerance for any product that does not meet our specifications."
Which Dog Food Products
Are Being Recalled?
The company bulletin advises the following packages are the only dog foods involved in the recall…
BLUE Wilderness Chicken
Package Sizes: 4.5 lb., 11 lb., 24lb.
Best Use By Dates: JUL 12 11B, JUL 13 11B, JUL 26 11Z, JUL 27 11Z, JUL 28 11Z
BLUE Basics Salmon
Package Sizes: 11 lb., 24 lb.
Best Use By Dates: AUG 21 11B, AUG 22 11B
BLUE Life Protection Large Breed Adult Chicken
Package Sizes: 30 lb.
Best Use By Dates: SEP 22 11 P, SEP 23 11 P, OCT 26 11 P
Obviously, if you have any of these products, you should stop using them immediately. And contact the company.
How the Mystery Was Solved
The problem was first reported to us by one of our readers on September 26. But we were unable to confirm the story until now.
In an article published earlier today (October 8, 2010) researchers at Michigan State University reported they had…
"…discovered a group of illnesses reported in dogs across the country is linked to a specific brand of dog food from the Blue Buffalo Co.

"Veterinarians from across the country recently began sending samples from dogs with elevated levels of calcium in their blood to MSU's Diagnostic Center for Population and Animal Health, director Carole Bolin said. The sick dogs had increased thirst and urination, and some of them also suffered weight loss, loss of appetite and signs of kidney damage.

"Endocrinologists with the Diagnostic Center, a service unit of the College of Veterinary Medicine, soon noticed the pattern and found a common factor: All 16 dogs whose samples were tested had very high levels of vitamin D in their blood and were fed a diet of Blue Buffalo's Wilderness Chicken Recipe."
The article continues…
"The affected dogs ranged in age from 8 months to 8 years. There were three mixed-breed dogs and 13 purebred dogs. The samples originated from eight states: Michigan, Texas, Colorado, Wisconsin, California, Illinois, North Dakota and Utah. In addition to the testing, there was either a brief written history and/or communication with the referring veterinarian to discuss the possible sources of excess vitamin D.

"Dogs seem to recover when the diet is changed, Bolin said, and there have not been any reported deaths related to the diet."
What's Being Done?
Blue Buffalo has assured consumers it is taking immediate action to remove all affected products from the shelves of retailers. And the company recommends…
"If your dog has shown any adverse reaction to the recalled products, have him checked by your veterinarian. Typical symptoms might include excessive water intake and/or excessive urination, and in some cases vomiting. Blue Buffalo will reimburse any veterinary or testing expenses related to illness caused by these products."
The Bottom Line
If you already have one of these products in your possession, you may contact Blue Buffalo at 877-523-9114 to arrange for return of the product and reimbursement.
In addition…
You can report complaints about FDA-regulated pet food products by calling the consumer complaint coordinator in your area.
Dog food recalls and FDA health alerts are serious matters. So, be sure to tell everyone you know who has a pet they care about.
Visit our Dog Food Recalls summary page for a list of links to all the Advisor's most recent recall reports.
Spread the word.