August 24, 2012 – Bil-Jac Foods of Medinia Ohio has announced a product withdrawal of a limited number of one of its dry kibbles due to possible contamination with mold.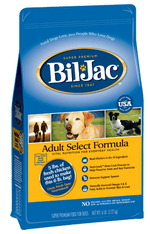 According to a company spokesperson, the withdrawal includes only the 6 pound package of its Bil-Jac Adult Select Formula dry dog food with a lot code of 1792-02 and a Best By date of 27 December 2013.
The products in question are currently being tested for the presence of mold toxins and the company has assured us they will share more information as it becomes available.1
Be sure to save a link to this page as additional information will be posted here as soon as it is published.
What You Can Do
You can report complaints about FDA-regulated pet food products by calling the consumer complaint coordinator in your area.
Or go to http://www.fda.gov/petfoodcomplaints.
Get Dog Food Recall Alerts
Delivered to You
Get dog food recall alerts delivered right to your Inbox the moment we become aware of them. Subscribe to The Dog Food Advisor's Dog Food Recall Alert email notification list now.
Or simply follow Dog Food Advisor on Twitter.
Footnotes
All information provided by Bil-Jac Customer Service on 8/24/2012 ↩