September 11, 2012 — Breeder's Choice Pet Food of Irwindale, CA has announced a voluntary dog food recall involving one of its products due to possible contamination with Salmonella bacteria.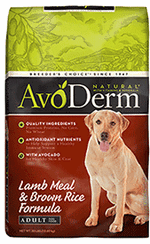 The event was reported by L. A. Biz in a news article dated September 11, 2012.
The recall includes AvoDerm Natural Lamb Meal and Brown Rice Adult Dog Formula in the 26 pound bag only manufactured with Best Before dates of August 28, 2013, August 29, 2013 and August 30, 2013.
The company claims it was able to contain the affected product at distribution centers. And it was not delivered to retail outlets.
The recall was confirmed by the US Food and Drug Administration in a news bulletin dated September 11, 2012.
What Products Are Being Recalled?
Products with the following UPC codes and Best By dates are being recalled:
Update
An updated question and answer page was posted on September 14, 2012 and now includes the following statement:
"Until we have completed testing and have the assurance that all products are free of contamination, we will hold all AvoDerm or Breeder's Choice products at the manufacturing facility and distribution sites"
The additional products have not been recalled. They are only being withheld pending the results of testing.
Breeder's Choice brands include:
AvoDerm
Pinnacle
Active Care
Advanced Pet Diets
What to Do?
Salmonella is serious business — for both you and your pet. So, if you can confirm your dog's food is one of the products being recalled, stop feeding or handling it immediately.
If you've discarded the packaging (something we recommend you never do) – or you're in any way in doubt – do not take chances. Be safe. Stop feeding the product anyway.
For more information, the company suggests:
Go to the AvoDerm website at http://www.avoderm.com/ or call the AvoDerm consumer line at (866) 500-6286
You can report complaints about FDA-regulated pet food products by calling the consumer complaint coordinator in your area.
Or go to http://www.fda.gov/petfoodcomplaints.
Get Dog Food Recall Alerts
Delivered to You
Get dog food recall alerts delivered right to your Inbox the moment we become aware of them. Subscribe to The Dog Food Advisor's Dog Food Recall Alert email notification list now.
Or simply follow Dog Food Advisor on Twitter.