The Dog Food Advisor will be a appearing on Tracie Hotchner's two live radio shows… Dog Talk and Cat Chat.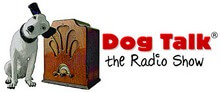 The first program, Cat Chat is scheduled for live broadcast on Wednesday, June 9, at 8 PM.
Dog Talk will be aired Saturday morning, June 12, at 11 AM. Both program times are eastern.
Tracie's shows are always informative… sometimes controversial.
Her probing style and investigative reporting have made Tracie a celebrity to dog and cat lovers… nationwide.
Tracie is the author of two classic pet books… The Dog Bible
and The Cat Bible
.
As the direct result of a book she wrote in 1997 on the subject of pregnancy and childbirth, Tracie was invited to appear on both The Oprah Show and The Today Show.
Both Dog Talk and Cat Chat are live "call-in" shows. So, I'm really looking forward to answering your questions about my all-time favorite subject… "How to Choose a Great Dog Food".
Tracie is a great host… and I can personally attest to the fact she's a lot of fun to talk to.
See you then.