July 7, 2015 — Carnivore Meat Company of Green Bay, Wisconsin, has announced it is voluntarily recalling two batches of its Vital Essentials raw frozen dog food due to possible contamination with Listeria bacteria.1
Listeria is not only dangerous to dogs, it can also be deadly to small children, the elderly and those with auto immune disorders.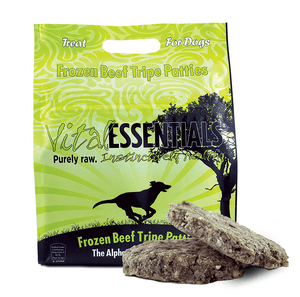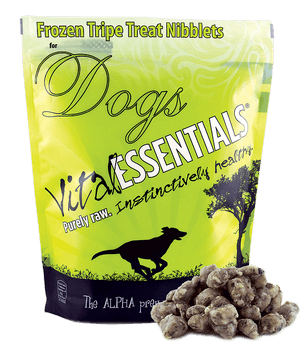 What's Being Recalled?
The lots involved in this voluntary recall include:
Vital Essentials Frozen Beef Tripe Patties
UPC 33211 00809
Lot # 10930
Best by date 20160210
Vital Essentials Frozen Beef Tripe Nibblets
UPC33211 00904
Lot # 10719
Best by date 12022015
The "Best By" date code and lot numbers are located on the back of each package.
No other product manufactured by the company is involved in this voluntary recall.
Where Was It Sold?
The affected product was distributed in the following states:
California
Colorado
Florida
Georgia
Illinois
New Mexico
Ohio
Pennsylvania
Rhode Island
Texas
Vermont
Washington
Why Was It Recalled?
The U.S. Federal Food and Drug Administration tested product and alerted Carnivore Meat Company that the product tested positive for Listeria.
Listeria is a bacteria commonly found in soil and water and some animals.
What to Do?
If you are a consumer and have purchased a bag of the affected product are invited to call 920-370-6542 Monday through Friday 9 AM to 4 PM CT.
A representative will assist you in obtaining replacement or a full refund from your local retailer for your original purchase.
If your package has been opened, please dispose of the raw treats in a safe manner by securing it in a covered trash receptacle.
U.S. citizens can report complaints about FDA-regulated pet food products by calling the consumer complaint coordinator in your area.
Or go to http://www.fda.gov/petfoodcomplaints.
Canadians can report any health or safety incidents related to the use of this product by filling out the Consumer Product Incident Report Form.
Get Critical Dog Food Recall Alerts
Delivered to You by Email
Get free dog food recall alerts sent to you by email. Subscribe to The Dog Food Advisor's recall notification list.
Via direct press release to The Dog Food Advisor 7/7/2015 ↩