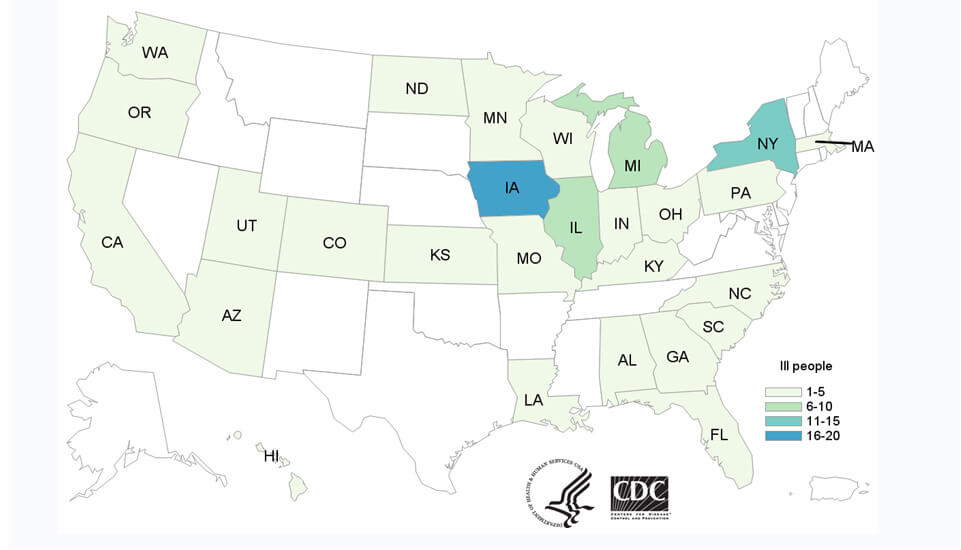 July 17, 2019 — The U.S. Centers for Disease Control and Prevention (CDC) has announced its investigation into an outbreak of Salmonella infections due to contaminated pig ears dog treats is expanding to 27 states.
Related Recall
In a related story posted July 3, 2019, by The Dog Food Advisor, Pet Supplies Plus recalled bulk pig ears stocked in open bins because they might be contaminated with Salmonella.
Link to Dog Treats Confirmed
The CDC has uncovered scientific evidence to indicate that contact with pig ear dog treats is the likely source of the outbreak.
DNA "fingerprinting" conducted by the CDC has linked the bacteria found on pig ears dog treats with the following 3 genetic strains:
Salmonella infantis
Salmonella newport
Salmonella london
About the Outbreak
As of July 16, 2019, a total of 93 people infected with the outbreak strains of Salmonella have been reported from 27 states.
Twenty ill people have been hospitalized. No deaths have been reported.
Illnesses might not yet be reported due to the time it takes between when a person becomes ill and when the illness is reported. This takes an average of 2 to 4 weeks.
What States?
Affected states include Alabama, Arizona, California, Colorado, Florida, Georgia, Hawaii, Illinois, Indiana, Iowa, Kansas, Kentucky, Louisiana, Massachusetts, Michigan, Minnesota, Missouri, New York, North Carolina, North Dakota, Ohio, Oregon, Pennsylvania, South Carolina, Utah, Washington, and Wisconsin.
About the Investigation
During the investigation, the Michigan Department of Agriculture and Rural Development gathered pig ear dog treats at retail locations where ill people reported buying the products.
A common supplier of pig ear dog treats has not been identified. Pet owners can take steps to keep their families healthy while feeding pets.
This investigation is ongoing and CDC will provide updates when more information is available.
About Salmonella
Most people infected with Salmonella develop diarrhea, fever, and stomach cramps 12 to 72 hours after being exposed to the bacteria.
The illness usually lasts 4 to 7 days, and most people recover without treatment.
In some people, the illness may be so severe that the patient needs to be hospitalized. Salmonella infection may spread from the intestines to the bloodstream and then to other places in the body.
Children younger than 5 years, adults 65 years and older, and people with weakened immune systems are more likely to have a severe illness.
Pets with Salmonella infections may be lethargic and have diarrhea or bloody diarrhea, fever, and vomiting.
Some pets will have only decreased appetite, fever and abdominal pain.
Infected but otherwise healthy pets can be carriers and infect other animals or humans.
What to Do?
Consumers should not feed suspected pig ears to their dog. Throw them away in a secure container so that your pets and other animals can't eat them.
Even if some of the recalled pig ears were fed to dogs and no one got sick, do not continue to feed them to pets.
Wash containers, shelves, and areas that held the recalled pig ear dog treats with hot, soapy water.
U.S. citizens can report complaints about FDA-regulated pet food products by calling the consumer complaint coordinator in your area.
Or go to https://www.fda.gov/petfoodcomplaints.
Canadians can report any health or safety incidents related to the use of this product by filling out the Consumer Product Incident Report Form.
Get Dog Food Recall Alerts by Email
Get free dog food recall alerts sent to you by email. Subscribe to The Dog Food Advisor's emergency recall notification system.
---