August 30, 2013 – Nestlé Purina PetCare Company of St. Louis, MO has announced it is voluntarily recalling a limited number of 3.5 pound bags of Purina One Beyond due to possible contamination with Salmonella bacteria.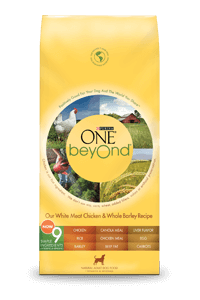 Purina One Beyond Our White Meat Chicken and Whole Barley Recipe Adult Dry Dog Food from a single production run was shipped to retail customers in the United States.
Only one bag of the product was found to be contaminated.
No additional Purina or Purina ONE dog or cat products are involved in this recall at this time.
And according to the company, no salmonella-related illness has been reported to date in association with this product.
What's Being Recalled?
The only product being recalled in this event is Purina ONE beyOnd Our White Meat Chicken & Whole Barley Recipe Adult Dry Dog Food in the 3.5 pound bag size.
The affected product contains both a "Best By" date and production code shown below:
Bag Size = 3.5 pounds
Best By Date = OCT 2014
Production Code = 31071083
UPC Code = 17800 12679
The "Best By" Date and the Production Code are found on the back or bottom of the bag.
About Salmonella
Salmonella can affect animals eating the product, and there is a risk to humans from handling contaminated products.
People handling contaminated dry pet food can become infected with Salmonella, especially if they have not thoroughly washed their hands after having contact with surfaces exposed to this product.
Healthy people infected with Salmonella should monitor themselves for the following symptoms: nausea, vomiting, diarrhea, abdominal cramping and fever.
Rarely, Salmonella can result in more serious ailments including arterial infections, endocarditis, arthritis, muscle pain, eye irritation and urinary tract symptoms.
Consumers exhibiting these signs after having contact with this product should contact their healthcare providers.
Pets with Salmonella infections may exhibit decreased appetite, fever and abdominal pain. If left untreated, pets may be lethargic and have diarrhea or bloody diarrhea, fever and vomiting.
Infected but otherwise healthy pets can be carriers and infect other animals or humans. If your pet has consumed the recalled product and has these symptoms, please contact your veterinarian.
What to Do?
Consumers who have purchased Purina ONE beyOnd Our White Meat Chicken & Whole Barley Recipe Adult Dry Dog Food products with the specific "Best By" Date and Production Code should discontinue feeding the product and discard it.
For further information or to obtain a product refund, consumers are asked to call Nestle Purina toll-free at 800-473-8546, 24 hours a day, seven days a week.
You can report complaints about FDA-regulated pet food products by calling the consumer complaint coordinator in your area.
Or go to http://www.fda.gov/petfoodcomplaints.
Get Critical Dog Food Recall Alerts
Delivered to You by Email
Get dog food recall alerts delivered right to your Inbox the moment we become aware of them. Subscribe to The Dog Food Advisor's Dog Food Recall Alert email notification list now. There is no cost for this service.