March 10, 2016 — Nestle Purina has announced it is voluntarily recalling select lots of its Beneful and Purina Pro Plan wet dog foods because they may not contain the recommended level of vitamins and minerals.
Purina discovered through its own testing that the affected dog foods did not contain the recommended level of vitamins and minerals and voluntarily recalled the product.
What's Being Recalled?
The recall includes select lots of wet dog food 10-oz. tubs under the Beneful Prepared Meals, Beneful Chopped Blends and Pro Plan Savory Meals brands.
No other Purina products or sizes are affected.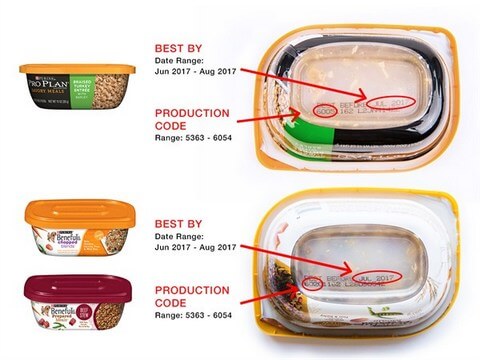 Lot Information
A complete list of included products by "Best Before" date and production code ranges are listed below: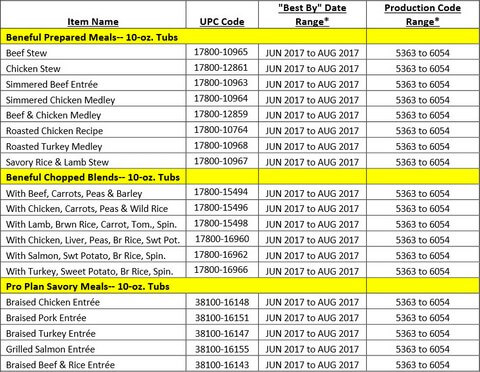 What to Do?
Purina is conducting this voluntary recall as a precaution for those dogs who may have eaten the affected product as their only meal for more than several weeks.
If you have questions about your pet's health, the company suggests that you contact your veterinarian.
Although most of the recalled product contains all of the vitamins and minerals your dog needs, Purina recommends that you discard any of the affected product you may have.
For more information or to request a refund, please call the company at 800-877-7919.
U.S. citizens can report complaints about FDA-regulated pet food products by calling the consumer complaint coordinator in your area.
Or go to http://www.fda.gov/petfoodcomplaints.
Canadians can report any health or safety incidents related to the use of this product by filling out the Consumer Product Incident Report Form.
Get Dog Food Recall Alerts by Email
Get free dog food recall alerts sent to you by email. Subscribe to The Dog Food Advisor's recall notification list.