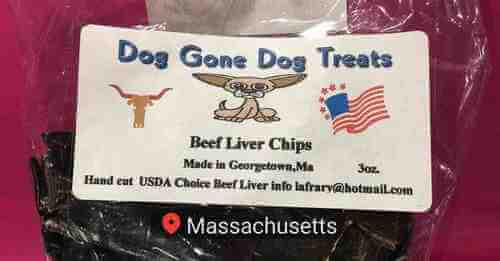 February 16, 2022 — The Massachusetts Department of Public Health is reporting three cases of infections with Salmonella bacteria linked to Dog Gone Dog Treats.
What Caused the Warning?
One open bag from a customer and several unopened bags purchased last week all tested positive for Salmonella at the Massachusetts State Public Health Laboratory.
The 3 reported cases of salmonellosis include two adults in their 70s and a child.
The Department of Health has ordered all stores to remove any existing product from their shelves. No additional product is currently being produced.
About Salmonella
According to the Department of Health…
People get Salmonella if they eat or handle food that has been contaminated with the bacteria and the food has not been properly handled, prepared, or cooked. Salmonella is common in uncooked food products from animals, such as eggs, poultry, and unpasteurized milk. People who get the germs on their hands can infect themselves by eating, smoking, or touching their mouths. They can also spread the germs to anyone or anything they touch, including food.

Most people with an infection will have diarrhea, fever, and stomach cramps that can last up to a week; severe disease is possible but uncommon. Although treatment is not always necessary, people who have weakened immune systems, very young children, adults over 65, and those experiencing severe symptoms should talk to their healthcare providers about treatment. Individuals should consult with their healthcare provider if they have symptoms after contact with the dog treats or an animal that has eaten the dog treats.

Dogs that become ill from Salmonella infection may experience diarrhea that can contain blood or mucus, may seem more tired than usual, and may have a fever or vomit. It is also possible for dogs to have Salmonella infection and not appear sick. Those concerned that their dogs may have become ill after eating the treats should consult their veterinarians.
What to Do?
The Massachusetts Department of Health is urging consumers who have any "Dog Gone Dog Treats" in their possession to dispose of them immediately.
Reporting Pet Food Problems
U.S. citizens can report complaints about FDA-regulated pet food products by calling the consumer complaint coordinator in your area.
Or go to the FDA's "Report a Pet Food Complaint" page.
Canadians can report any health or safety incidents related to the use of this product by filling out the Consumer Product Incident Report Form.
Get Lifesaving Recall Alerts
Get free dog food recall alerts sent to you by email. Subscribe to The Dog Food Advisor's emergency recall warning system.
There's no cost. No spam ever. Cancel any time.
---
---