June 19, 2015 — Boulder Dog Food Company of Boulder, Colorado, is voluntarily recalling its Chicken Sprinkles food enhancer because it has the potential of being contaminated with Salmonella.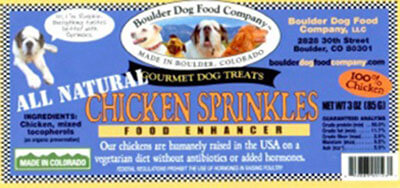 What's Being Recalled?
The recall is limited to the 3-ounce bags of Chicken Sprinkles Food Enhancer with a "Best By" date of 05/04/16, Lot #998 and a UPC Code of 899883001231.
The affected product is in a clear poly bag. The UPC Code is located in the lower right hand corner of the product label on the front of the bag.
The "Best By" date and Lot Number are on a label on the reverse side of the bag.
The recalled product consists of 10 bags that were distributed to two retail stores in Colorado, one store in Washington (state) and one retail customer in the State of Maryland.
The company has retrieved 8 of the 10 bags of the recalled product and believes the remaining two bags have been used or destroyed.
If you are in possession of the recalled product, please discontinue use and return the unused material to either the retailer where it was purchased or directly to Boulder Dog Food Company.
About Salmonella
Salmonella can affect animals eating the product. And there is risk to humans who handle it, too — especially if the handler does not thoroughly wash his or her hands after having contact with the Product or any surfaces exposed to the Product.
Healthy people handling a product contaminated by Salmonella should monitor themselves for some or all of the following symptoms: nausea, vomiting, diarrhea or bloody diarrhea, abdominal cramping, and fever.
Although rare, Salmonella may result in more serious ailments, including arterial infections, endocarditis, arthritis, muscle pain, eye irritation, and urinary tract symptoms.
Consumers exhibiting these signs after having contact with the Product should contact their healthcare providers immediately.
Pets with Salmonella infections may be lethargic and have diarrhea or bloody diarrhea, fever, and vomiting.
Some pets will have only decreased appetite, fever and abdominal pain.
Infected but otherwise healthy pets can be carriers and infect other animals or humans.
If your pet has consumed the product and has exhibited these symptoms, you should contact your veterinarian immediately.
What Caused the Recall?
The recall is a result of a routine sampling program by the Colorado Department of Agriculture which revealed a positive test for Salmonella in one package of Chicken Sprinkles.
One complaint was received from a consumer who had contact with the Product.
What to Do?
Consumers with questions may contact Boulder Dog Food Company at 303-449-2540 Monday through Friday between 8 AM and 5 PM MT.
U.S. citizens can report complaints about FDA-regulated pet food products by calling the consumer complaint coordinator in your area.
Or go to http://www.fda.gov/petfoodcomplaints.
Canadians can report any health or safety incidents related to the use of this product by filling out the Consumer Product Incident Report Form.
Get Critical Dog Food Recall Alerts
Delivered to You by Email
Get free dog food recall alerts sent to you by email. Subscribe to The Dog Food Advisor's recall notification list.