March 2, 2017 — Blue Buffalo has issued a voluntary market withdrawal of 17 varieties of its Blue Divine Delights and Blue Wilderness Trail Trays due to quality issues with the foil seals on the top of the cups.
No other Blue Buffalo products (including any variety of Divine Delights not listed below) are impacted by this issue.
The company is not aware of any dogs becoming ill from these products.
What's Recalled?
The following products are affected by the recall: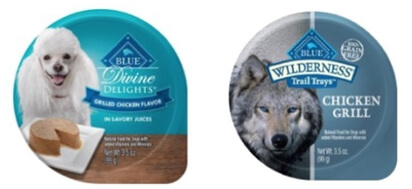 BLUE Divine Delights Filet Mignon Flavor in Gravy
3.5 oz cup
84024312035
BLUE Divine Delights New York Strip Flavor in Gravy
3.5 oz cup
84024312037
BLUE Divine Delights Prime Rib Flavor in Gravy
3.5 oz cup
84024312039
BLUE Divine Delights Rotisserie Chicken Flavor in Gravy
3.5 oz cup
84024312041
BLUE Divine Delights Pate Filet Mignon Flavor
3.5 oz cup
84024312043
BLUE Divine Delights Pate Porterhouse Flavor
3.5 oz cup
84024312045
BLUE Divine Delights Pate Grilled Chicken Flavor
3.5 oz cup
84024312047
BLUE Divine Delights Pate Top Sirloin Flavor
3.5 oz cup
84024312049
BLUE Divine Delights Pate Angus Beef Flavor
3.5 oz cup
84024312051
BLUE Divine Delights Pate Roasted Turkey Flavor
3.5 oz cup
84024312053
BLUE Divine Delights Pate with Bacon, Egg and Cheese
3.5 oz cup
84024312057
BLUE Divine Delights Pate Sausage, Egg and Cheese Flavor
3.5 oz cup
84024312059
BLUE Divine Delights Pate Steak and Egg Flavor
3.5 oz cup
84024312061
BLUE Wilderness Trail Trays Duck Grill
3.5 oz cup
84024312071
BLUE Wilderness Trail Trays Beef Grill
3.5 oz cup
84024312073
BLUE Wilderness Trail Trays Chicken Grill
3.5 oz cup
84024312075
BLUE Wilderness Trail Trays Turkey Grill
3.5 oz cup
84024312077
What to Do?
Blue Buffalo has asked consumers to stop feeding the affected product to pets and bring any remaining cups affected by the withdrawal to their place of purchase for a full refund.
Consumers with questions about this market withdrawal are invited to contact Blue Buffalo at 877-870-7363.
U.S. citizens can report complaints about FDA-regulated pet food products by calling the consumer complaint coordinator in your area.
Or go to http://www.fda.gov/petfoodcomplaints.
Canadians can report any health or safety incidents related to the use of this product by filling out the Consumer Product Incident Report Form.
Get Dog Food Recall Alerts by Email
Get free dog food recall alerts sent to you by email. Subscribe to The Dog Food Advisor's emergency recall notification system.