February 14, 2020 — The U.S. Food and Drug Administration is cautioning pet owners not to feed one lot of Aunt Jeni's Home Made frozen raw pet food.
The warning was issued because a recent sample collected from a retail store in the District of Columbia tested positive for Salmonella… and because the affected food represents a serious threat to human and animal health.
No image was provided by the FDA. However, the photo below was copied (in good faith) from the brand's website… and may (or may not) be an accurate depiction of the related product.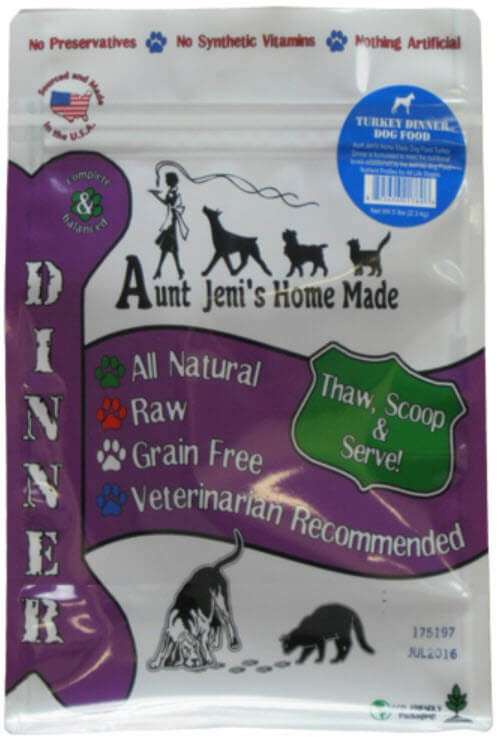 What Product Is Affected?
The relevant product includes one lot of the following product:
Aunt Jeni's Home Made All-Natural Raw Turkey Dinner Dog Food
Package size: 5 pound (2.3 kg)
Lot number: 175331 NOV2020
Lot codes to help identify the product are printed on the lower right corner of the front of the bag.
What Caused the Warning?
FDA is issuing this alert because this lot of Aunt Jeni's Home Made frozen raw pet food represents a serious threat to human and animal health.
And since the product is sold and stored frozen, the FDA is concerned that people may still have it in their possession.
In August 2019, the Agency also issued a public health advisory after one lot each of two varieties of Aunt Jeni's frozen raw pet food tested positive for Salmonella and/or Listeria monocytogenes.
The previous warning was published by The Dog Food Advisor on August 30, 2019.
About Salmonella
Salmonella can affect both human and animal health. People with symptoms of Salmonella infection should consult their health care providers.
Pets can get sick from this pathogen and may also be carriers of the bacteria and pass it on to their human companions without appearing to be ill.
People can get sick from handling contaminated pet foods and treats or touching surfaces that have had contact with the contaminated pet foods and treats.
Additionally, if a person gets Salmonella on their hands, they can spread the bacteria to other people, objects, and surfaces.
Consult a veterinarian if your pet has symptoms of Salmonella infection.
What to Do?
If you have any of the affected Aunt Jeni's Home Made product, stop feeding it to your pet, throw it away, and sanitize surfaces that may have come in contact with the product.
Consumers who have had this product in their homes should clean refrigerators and freezers where the product was stored… as well as clean and disinfect all bowls, utensils, food prep surfaces, pet bedding, toys, floors, and any other surfaces that the food or pet may have had contact with.
Since animals can shed the bacteria in their stools, it's important to clean up the animal's feces in yards or parks where people or other animals may become exposed.
Consumers should thoroughly wash their hands after handling the affected product or cleaning up contaminated items and surfaces.
U.S. citizens can report complaints about FDA-regulated pet food products by calling the consumer complaint coordinator in your area.
Or go to the FDA's "Report a Pet Food Complaint" page.
Canadians can report any health or safety incidents related to the use of this product by filling out the Consumer Product Incident Report Form.
Get Lifesaving Recall Alerts by Email
Get free dog and cat food recall alerts sent to you by email. Subscribe to The Dog Food Advisor's emergency recall notification system.
---