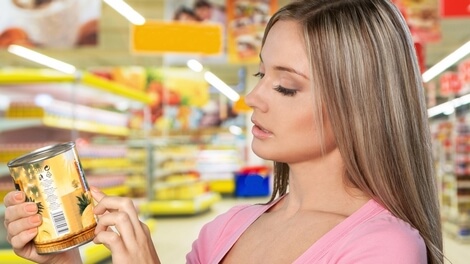 Cancer-causing preservatives. Anonymous animal by-products. Out-of-date grocery store meats.
The list goes on and on.
On this page…
I'm gonna share a simple tip…
That'll virtually guarantee you'll never unknowingly feed YOUR dog a food that contains any high-risk ingredients.
But first…
This troubling story.
A few weeks ago…
Kelly B., a reader from San Antonio, Texas, posted a question about a popular "All Life Stages" food she'd been feeding her two dogs…
A large breed puppy… and an adult.
She wanted to know if she could safely feed the same food… to BOTH pets.
So…
She snapped a picture of its label… and posted it on our blog.
I was STUNNED.
Unfortunately…
Kelly had been feeding her two dogs a food that was loaded with risky ingredients.
And she didn't even know it.
Look at this picture…
Notice the arrows.
Believe it or not…
This best-selling "All Life Stages" dog food actually includes the words… "preserved with BHA".
Which is hard to believe.
After all…
BHA is a controversial preservative that's linked to cancer in laboratory animals by the World Health Organization.
It's banned from use in human food by Japan and the European Union.
Yet it's still found in a number of U.S. and Canadian pet foods.
And that's not all…
This same food also contains artificial food dyes… also linked to cancer.
Plus…
Propylene glycol, a food stabilizer known to cause Heinz body anemia in cats.
In addition…
You'll also find "meat and bone meal"…
As well as "animal fat".
Two generic ingredients that can be sourced from virtually any mammal…
Donkey, horse, beef, lamb or goat.
Even dead zoo animals.
Unfortunately…
Mystery ingredients like these are the ones most likely to contain…
Spoiled supermarket meats
Slaughterhouse rejects
Recovered road kill
What's more…
Their anonymous nature can also make it impossible to identify the cause of your dog's food allergies.
High-Risk Ingredients
You Want to Avoid
Here are 8 ingredients you never want to find in any food designed for feeding both puppies and adults… together in the same home.
I've also included (in brackets) the health danger to which each is linked:
BHA (cancer)
BHT (preservative, cancer)
Menadione (hemolytic anemia)
Ethoxyquin (liver pigmentation)
Chemical coloring agents (cancer)
Propylene glycol (Heinz body anemia)
Anonymous meat (allergies)
Generic animal fat
There are others.
But these are the most common ones you'll find in a pet food.
The Easy Way to Avoid
Risky Ingredients
Here's a simple time-saving tip…
That'll virtually guarantee you'll never unknowingly feed your dog a food that contains any high-risk ingredients.
Simply start with your preferred form of food… dry, wet or raw.
And follow Step 2 of the EC4 Optimize Method…
EC4 Optimize Method
Step 2
Check the Rating
Favor products rated 4 or 5 stars by The Dog Food Advisor. Avoid recipes rated 2 stars or lower.
That's because the label of every dog food rated 4 or 5 stars has been screened by The Advisor to be sure it contains…
No cancer-causing preservatives
No generic animal ingredients
No chemical coloring agents
No controversial additives
Above-average protein
Below-average carbs
Plus…
A more favorable fat-to-protein ratio.
Which means… you're far less likely to buy a product made with fatty trimmings and slaughterhouse waste.
Bottom line?
Choosing a food rated 4 or 5 stars by The Advisor can help you avoid products that contain high-risk ingredients…
Or poor nutrient ratios.
On the Next Page…
I'll show you how to tell if a food contains any hidden Chinese protein.