On September 30, 2009, Nutro Products, Inc. announced the following voluntary dog food recall…
Small pieces of melted plastic were recently found in the production line of select varieties of NUTRO® dry dog and cat food products.  We immediately retrieved the affected pet food from our distributors, and only three SKUs reached retail stores.  These were delivered to a small number of PetSmart and Petco stores.  The specific products are listed below.

Upon discovery of the melted plastic, we immediately halted manufacturing and performed a thorough search of all equipment.  We identified the source as a worker's "bump cap," similar to a hard hat, which inadvertently made its way into our manufacturing process.

Based on our extensive review, it is highly unlikely that any pieces of plastic made it into finished product.   However, upon learning of the incident, we voluntarily retrieved all potentially affected products.

We strive to produce pet food of the highest quality and safety standards. Consumers who believe they have purchased potentially affected product should return it to their retailer for a full refund or exchange for another NUTRO®  product, or contact the Nutro Products Consumer Care team at 800-833-5330.
It appears from this announcement that the company acted quickly to contain the problem… and Nutro believes actual product contamination is "highly unlikely".
Just the same… to determine if this dog food recall affects you, here's an image I copied from the Nutro press release: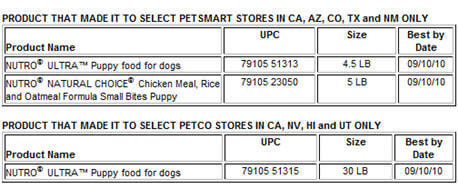 Visit our Dog Food Recalls summary page for an index of links to all the Advisor's most recent product recall reports.
Footnotes
09/14/2012 The actual press release has been apparently deleted from the Nutro website. So, the link has been removed from this article.