March 29, 2013 – Natura Pet has today announced it is expanding its recall of specific California Natural, Innova, EVO, Karma and Healthwise formulas as a "precautionary measure" due to potential contamination with Salmonella bacteria.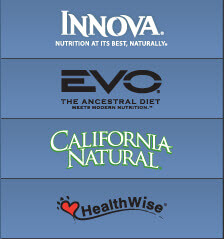 According to the company, no other P&G Pet Care brands are affected by this recall.
Natura Pet claims it was alerted to a single case of Salmonella in a package of EVO Turkey & Chicken Cat Food on March 15th.
The company then took the "precautionary measure" of recalling all products produced on the same production line within the same time frame.
After further examination, Salmonella was also discovered in other packages of EVO Turkey and Chicken Cat Food and Innova Cat Treats.
The recall event has been confirmed in a news release by the FDA.
What's Being Recalled?
The company is taking the action of expanding its current recall to include additional Natura Pet products that were produced between December 14, 2012 and March 24, 2013 on the same production line.
Natura Pet is also recalling a single lot of Innova cat treats.
Due to the unusually large number of product codes and lot numbers involved in this recall, we have reproduced the actual letter sent to retailers and distributors on this page.
What to Do?
In its letter to distributors, Natura Pet advised…
"Managers or designee should immediately secure all affected SKUs to an isolated location. Product should be secured (and) segregated from saleable product.

Distributor partners, please notify your retail outlets and ensure they take the appropriate action to remove the impacted products from the shelf.

Your Natura Sales Representative and/or distributor will be in contact with further instructions."
Those with additional questions can call 800-224-6123.
You can report complaints about FDA-regulated pet food products by calling the consumer complaint coordinator in your area.
Or go to http://www.fda.gov/petfoodcomplaints.
Get Critical Dog Food Recall Alerts
Delivered to You by Email
Get dog food recall alerts delivered right to your Inbox the moment we become aware of them. Subscribe to The Dog Food Advisor's Dog Food Recall Alert email notification list now.