December 7, 2012 – PetSmart has announced Claudia's Cuisine has issued a voluntary product withdrawal for its 7.5 oz Dog Candy Fruit Hound Cake and Dog Candy Blueberry Hound Cake.

No other products are affected.
The products are being voluntarily withdrawn due to the potential to contain mold.
Claudia's Cuisine has not received any reports of illness associated with the affected product.
Important Notice
Claudia's Cuisine does not maintain a company website. In addition, PetSmart Customer Service was unable to confirm the accuracy of its own report when contacted by phone on 12/8/2012.
For this reason, we are including below a screen capture image of the actual PetSmart Twitter update posted at 12:12 pm ET Friday.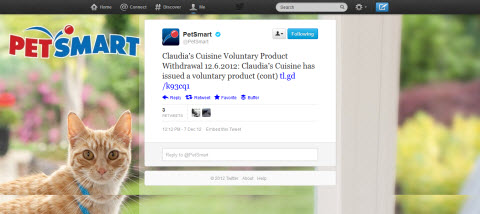 News Update
December 12, 2012
The US Food and Drug Administration has now confirmed this withdrawal event in a news bulletin dated 12/12/2012. Read this report for complete details.
Claudia's Cuisine has now also confirmed this voluntary withdrawal in its own news release on the same date.
What to Do
If you suspect your Claudia's Cuisine Dog Candy product may have mold growth, the company suggests consumers bring the item to your closest PetSmart store for a full refund.
If you have any questions about this voluntary withdrawal, please call Claudia's Cuisine's Customer Service at (501) 851-0002 or email [email protected]
You can report complaints about FDA-regulated pet food products by calling the consumer complaint coordinator in your area.
Or go to http://www.fda.gov/petfoodcomplaints.
Get Dog Food Recall Alerts
by Email
Get dog food recall alerts delivered right to your Inbox the moment we become aware of them. Subscribe to The Dog Food Advisor's Dog Food Recall Alert email notification list now.