April 17. 2013 – Breeder's Choice Pet Food of Irwindale, California has has issued a voluntary recall for a single batch of Active Care Biscuits-Healthy Dog Treats due to the presence of mold.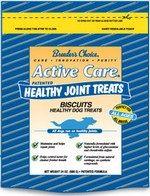 The recalled product includes the following information:
Breeder's Choice Active Care Healthy Joint Treats
Product Code/SKU/ Material #: BCP-080
UPC Code: 0130104895
Size: 24 ounces
Best Before Code: 19-Dec-2013
Products and product lots that do not appear in the above lists have not been affected.
According to a release from the manufacturer, the mold seems to have occurred due to varying dryer temperature settings for drying biscuits. This exposed the recalled product to excess moisture and has since been remedied.
Pet owners who fed their pets the recalled biscuits should watch for symptoms that may develop. Common symptoms associated with mold exposure include gastrointestinal issues such as loose stool.
At the time of this release, there have been no reports of human or pet illnesses associated with this recall.
What to Do?
For information, consumers are asked to call Central Customer Care line at 866-500-6286.
You can report complaints about FDA-regulated pet food products by calling the consumer complaint coordinator in your area.
Or go to http://www.fda.gov/petfoodcomplaints.
Get Critical Dog Food Recall Alerts
Delivered to You by Email
Get dog food recall alerts delivered right to your Inbox the moment we become aware of them. Subscribe to The Dog Food Advisor's Dog Food Recall Alert email notification list now.